Key Concepts
In PlanetTogether, you can automatically join manufacturing orders which creates a single manufacturing order from many. This is helpful when it is preferred to only release a single manufacturing order to the shop floor for operational reasons.
Setting Up Auto-Joining Manufacturing Orders
First, check the "Auto Join Manufacturing Orders" checkbox found in the Optimize options dialog.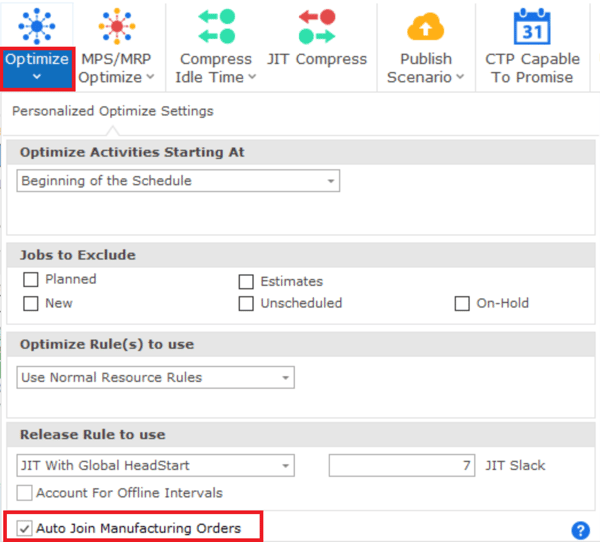 When this is checked, manufacturing orders with the same AutoJoinGroup scheduled consecutively in one capacity interval are joined together. The AutoJoinGroup can be manually edited in the Job dialog under the Manufacturing Orders tab. The quantity and notes from trailing manufacturing orders are added to the first manufacturing order in the sequence.

It is important to note that manufacturing orders will only be joined if found within the resource's Auto Join Span. This span can be set by right-clicking on the resource, selecting the "Open" option to open the resource options, and going to the "Advanced Rules" tab. From there, the AutoJoin Span can be set.

Manufacturing Orders will only be joined if the following are true:
They are both completely contained within one contiguous Online or Overtime Capacity Interval on the resource driving the Auto-Join.
There are no other operations between them on the resource.
They have the same non-blank AutoJoinGroup.
They are scheduled to start on the resource before the end of its AutoJoin Span (calculated from the PlanetTogether clock).
The resource is not a batch resource.
Other Notes:
If AutoJoin is enabled for multiple resources and Manufacturing Orders have multiple operations, then it may be important that the resources are processed for AutoJoin in a particular sequence. The sequence in which they are processed is in order of increasing Resource Id number (effectively, the order in which they were created in the system.)
No rescheduling occurs between AutoJoins on a resource or between resources. Instead, all resources are processed from the PlanetTogether clock up to the end of their AutoJoin Span, and once all resources have been AutoJoined, a Time Adjustment occurs.
Related Articles