Key Concepts
Capacity Planning is one of the main functions of PlanetTogether. Finite capacity planning is of great concern to manufacturers as there are a limited number of hours in a day and a limited number of days in a week.
The Capacity Plan pane allows users to get a visual overview of the capacities in use and the available capacities over a specified period. In addition, it is used to schedule and analyze capacity usage to reveal bottleneck issues in the schedule before they occur.
As PlanetTogether tracks, finite capacity, the scheduled usage of a capacity cannot exceed 100%. So instead, PlanetTogether will show manufacturers where potential trouble spots are when the scheduled capacity usage is consistently higher than 100%.
The capacity plan can be useful in What-If or Capable to Promise situations where a planner might need to see at a glance which capacities are available in a specified time frame.
Capacity Plan Options:
The Capacity Plan can be selected and accessed through the Views drop-down menu located at the top right corner of the page.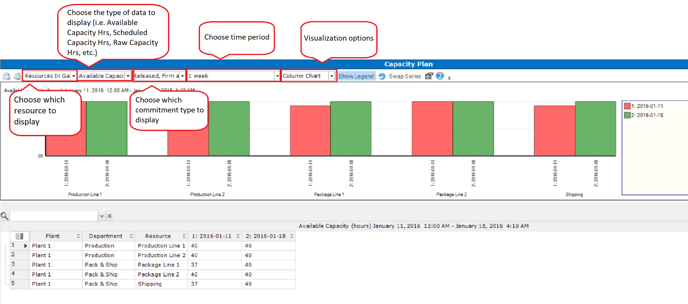 From the drop-down menus at the top of the capacity plan pane, users can decide which information will be viewed by changing the:
Display Type
Data Type
Job Commitment Type
Time Period
Plot Type
Watch: Capacity Planning