Key Concepts
The Database Manager allows users to connect to and edit data from their import database. Generally, PlanetTogether will use databases in SQL Server to pull information during imports.
The Database Manager is handy for schedulers to modify configuration tables that can alter the import (for example, by adding a Resource or an Attribute) directly in PlanetTogether without going into SQL Server.
Setting Up
The Database Manager can be accessed from the Settings | Database Manager tab: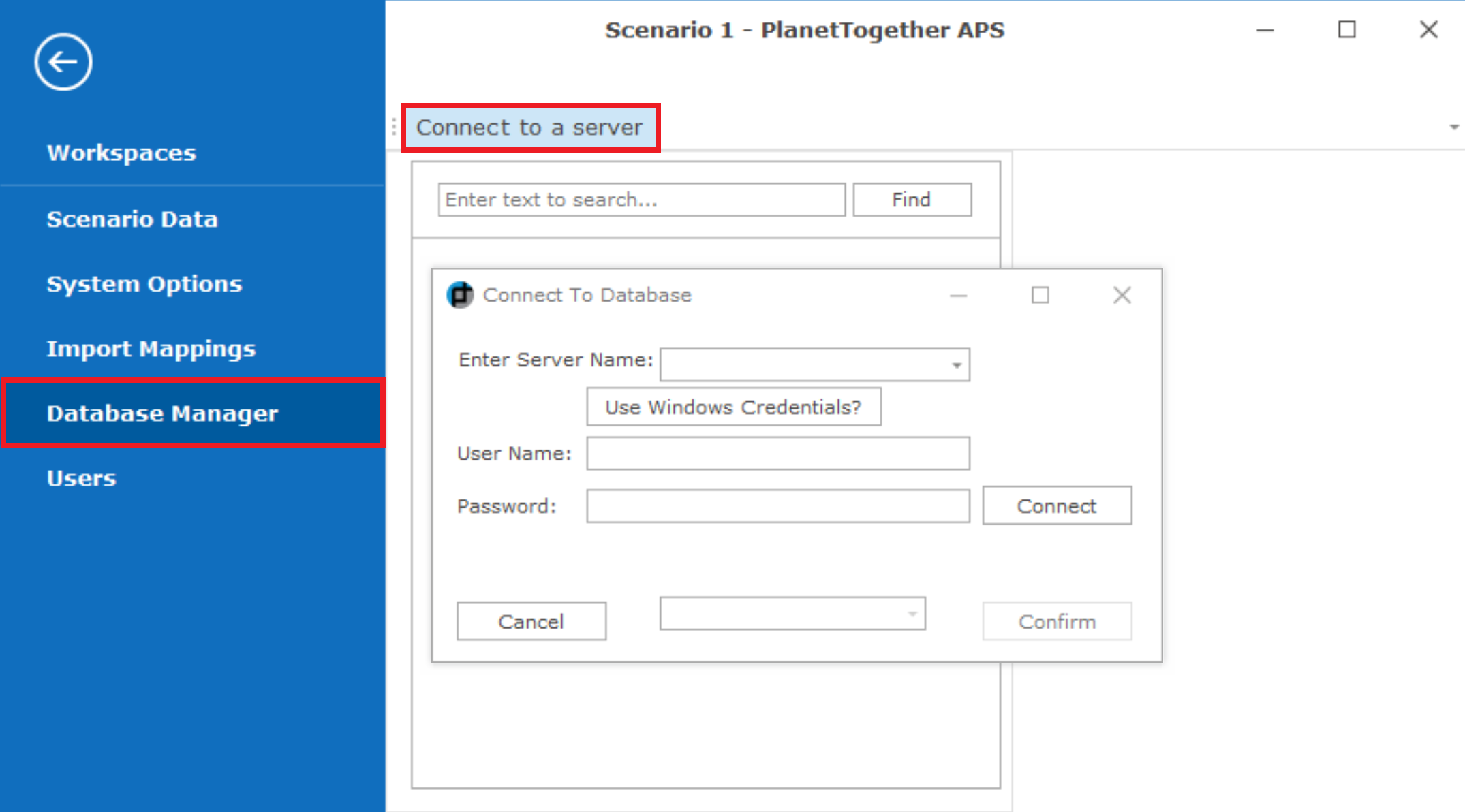 1. Click on "Connect to a server." This will open up the "Connect To Database" window, as seen above. Note: You can only connect to one database at a time for each instance.
2. Enter the Server Name and Credentials. These are the same as specified in the Instance Manager under the Data Source tab | Import Database / Import Database Login.
Note: By default, the drop-down menu will display the Server Name defined in the Instance Manager. The credentials are the same as those used to access the SQL Server database. Windows Credentials can also be used to connect to the database.
3. Click on "Connect." If PlanetTogether were successfully able to connect to the server, you would see "Select A Database" appear underneath.
4. Select the Database you want to maintain or access from the drop-down menu, then click "Confirm."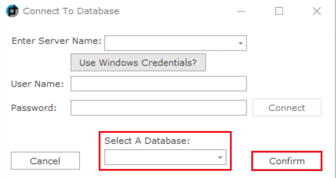 Once you are connected, you will see a list of Tables and Views that corresponds to the information found in SQL. Note: You are only able to see the Tables and Views in PlanetTogether.
Tables
For the Tables, you can view the information, filter, and search through the data. You can also modify the information by typing it into the cells. If you make any changes, be sure to click on "Save Table Changes" to keep those changes.
Views
For the Views, you can view the information, filter, and search through the data. However, you are not able to modify the information directly within PlanetTogether.
Additional Information:
Note: The Database Manager allows you to view and edit some information instead of going into SQL. However, this feature does not allow you to write scripts or queries. It is mostly used to access and maintain custom tables without having to connect to SQL Server.
Related Articles: