Key Concepts
PlanetTogether has multiple features that allow planners and schedulers to see the effects of changes made to the schedule, whether positive or negative. The visual labels and alerts allow users to quickly and easily visualize the impact of late jobs, material shortages, and other constraints that can cause problems in production.
Gantt Label Colors
The Gantt color labels are useful for displaying potential problems in the schedule and the timing and status of the scheduled activities. Some useful label segments include "Timing," which can identify capacity and material bottlenecks, and the "Material Status" segments which can identify possible shortages of materials.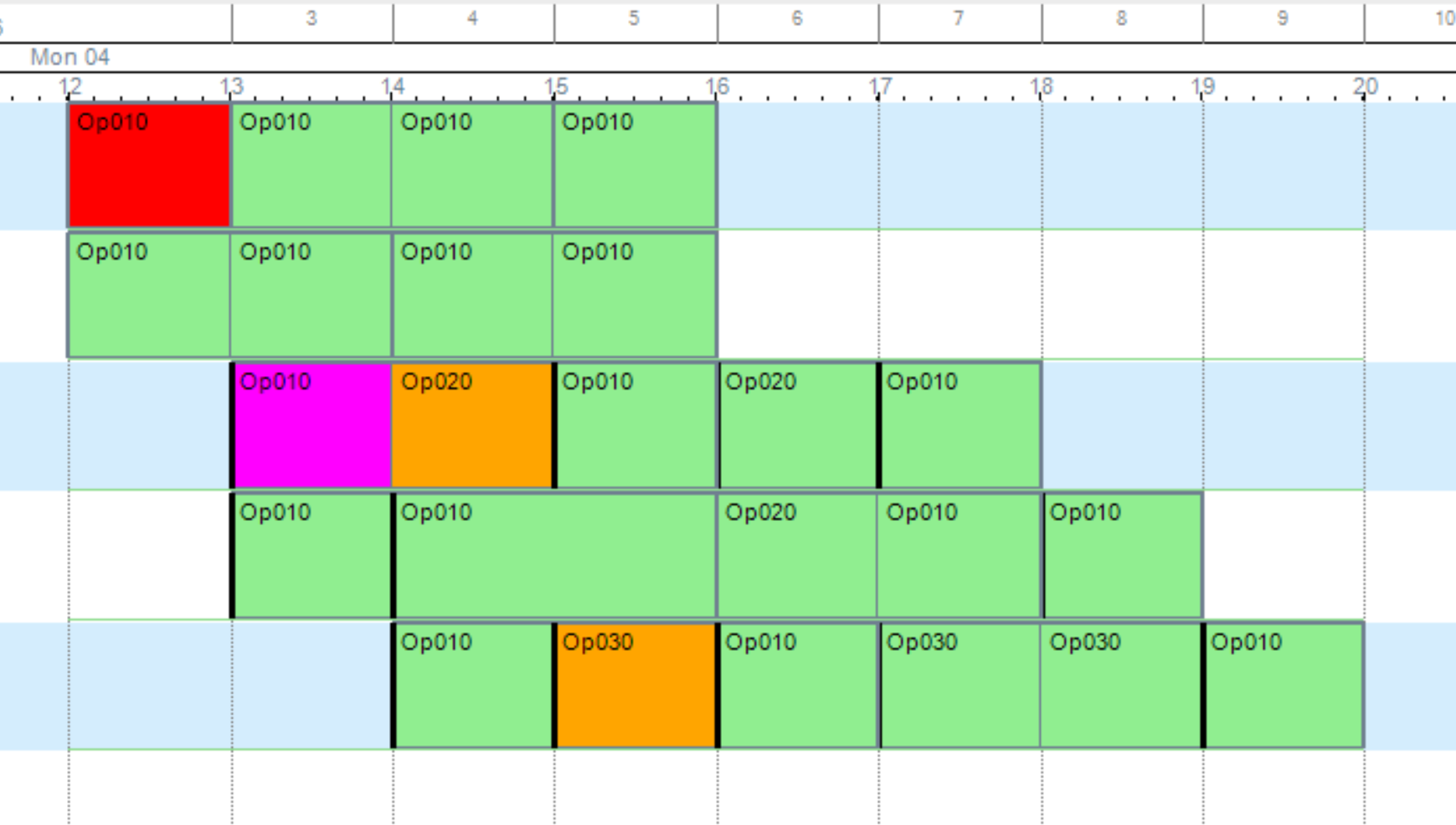 Late / Capacity Bottleneck
Late jobs are highlighted in red and orange. If a job has multiple operations, the problem operation (the one causing other jobs to be late) is colored in red while the successor operations are colored in orange. This is helpful to identify which job to focus on as you cannot make the successor operations on time if the constrained job is not on time.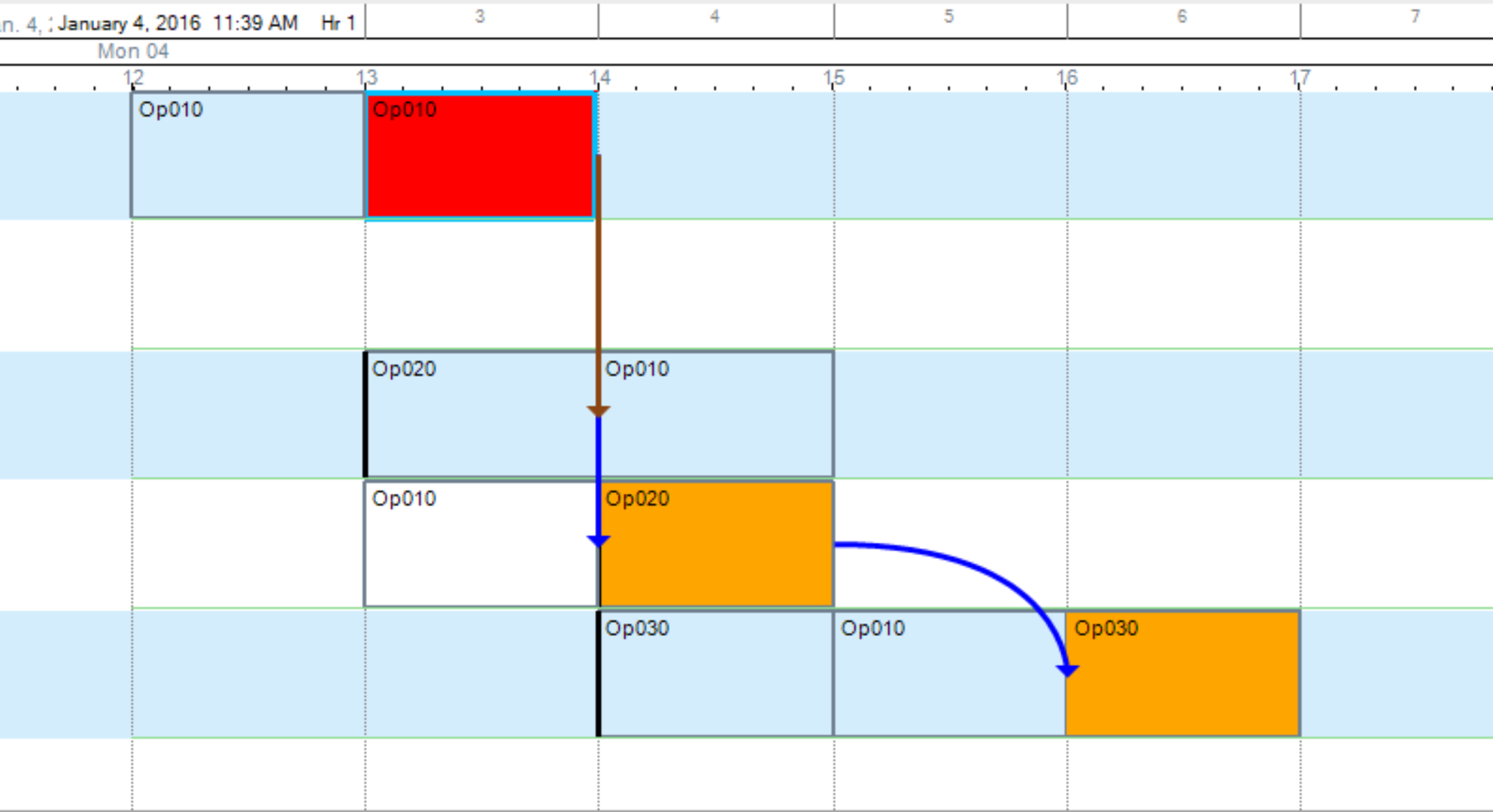 In this example, Op10 is late because of capacity and is causing Op20 and Op30 to be late. Therefore, Op10 is highlighted in red because it is the bottleneck, and Op20 and Op30 are in orange to alert that they are late.
Material Bottleneck
This label segment is similar to the capacity constraint label. Jobs that are late due to a material shortage will be highlighted in bright pink. This is used to specify the cause of the job lateness. For example, there may be capacity available to perform the on, but no material is available for consumption. Successor operations that are made late will be colored in orange.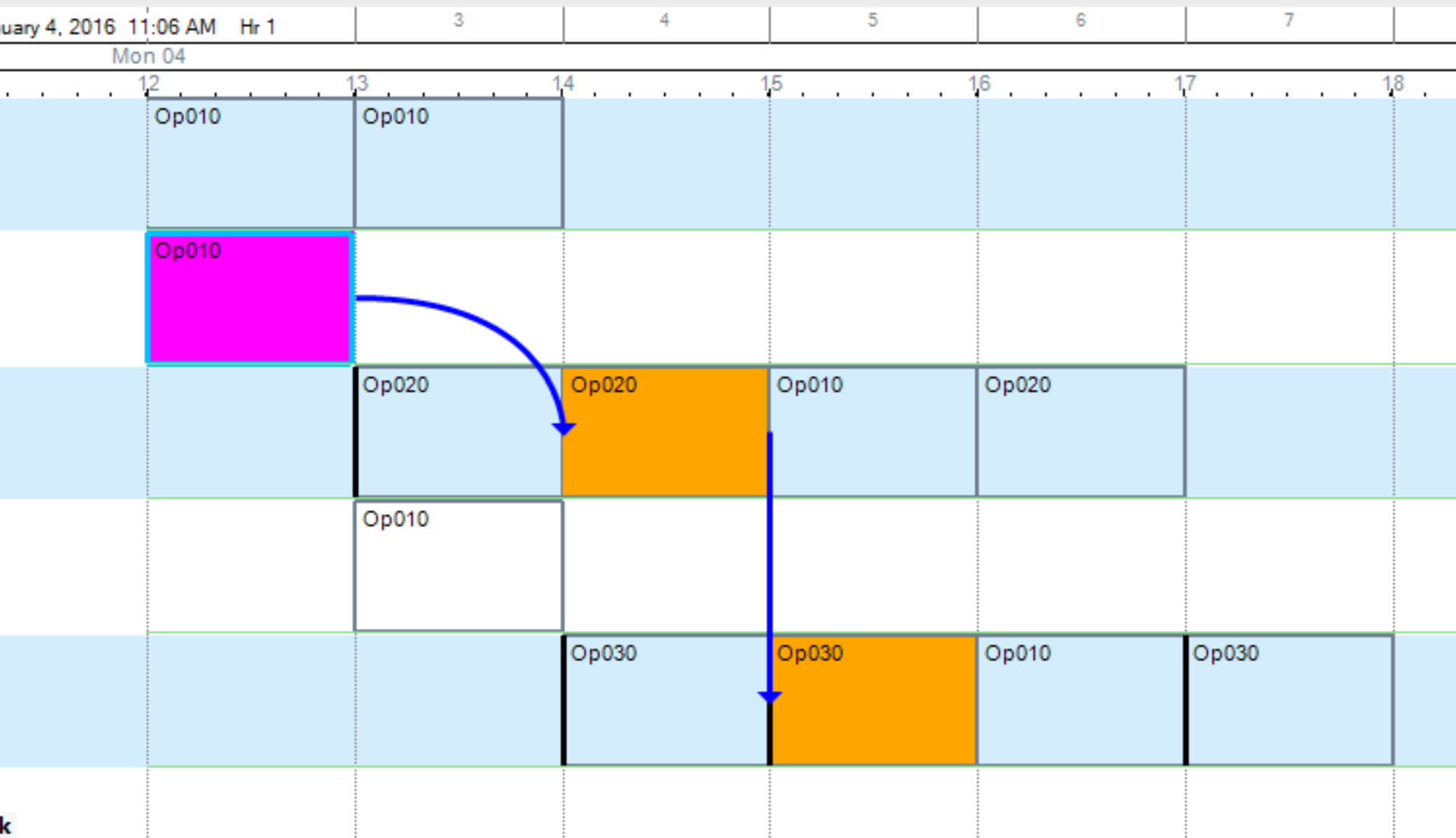 Material Status
This type of label can provide additional information on the status of the material to be consumed by the job. It essentially displays whether the jobs have enough materials to start today. For example, jobs in green have enough materials to start. Jobs that do not have enough materials to start and have no planned source will be colored in purple. This allows you to identify possible material bottlenecks so that you can focus on procuring enough materials for these jobs.

Impact Alerts
Grid alerts allow users to quickly see if any jobs, materials, or inventory items match filtering criteria. Alerts appear above the pane headers in PlanetTogether so that they can be seen from any screen. Additionally, alerts will show an arrow indicating whether the new value has increased or decreased. Grid alerts can be created based on any filter property defined. PlanetTogether comes with different Impact Fields that can be used to create Alerts.

The Impact Fields are set to "True" or "False" to reference different points in time. You can then show the impact of the schedule based on the last action you made, based on the previous day's schedule, since the schedule was optimized, etc. To define this, go to the KPI View | Options to open the KPI Options dialog. Then, under "Compare scenario impact to the latest snapshot of this type," select how you want the impact fields to be calculated.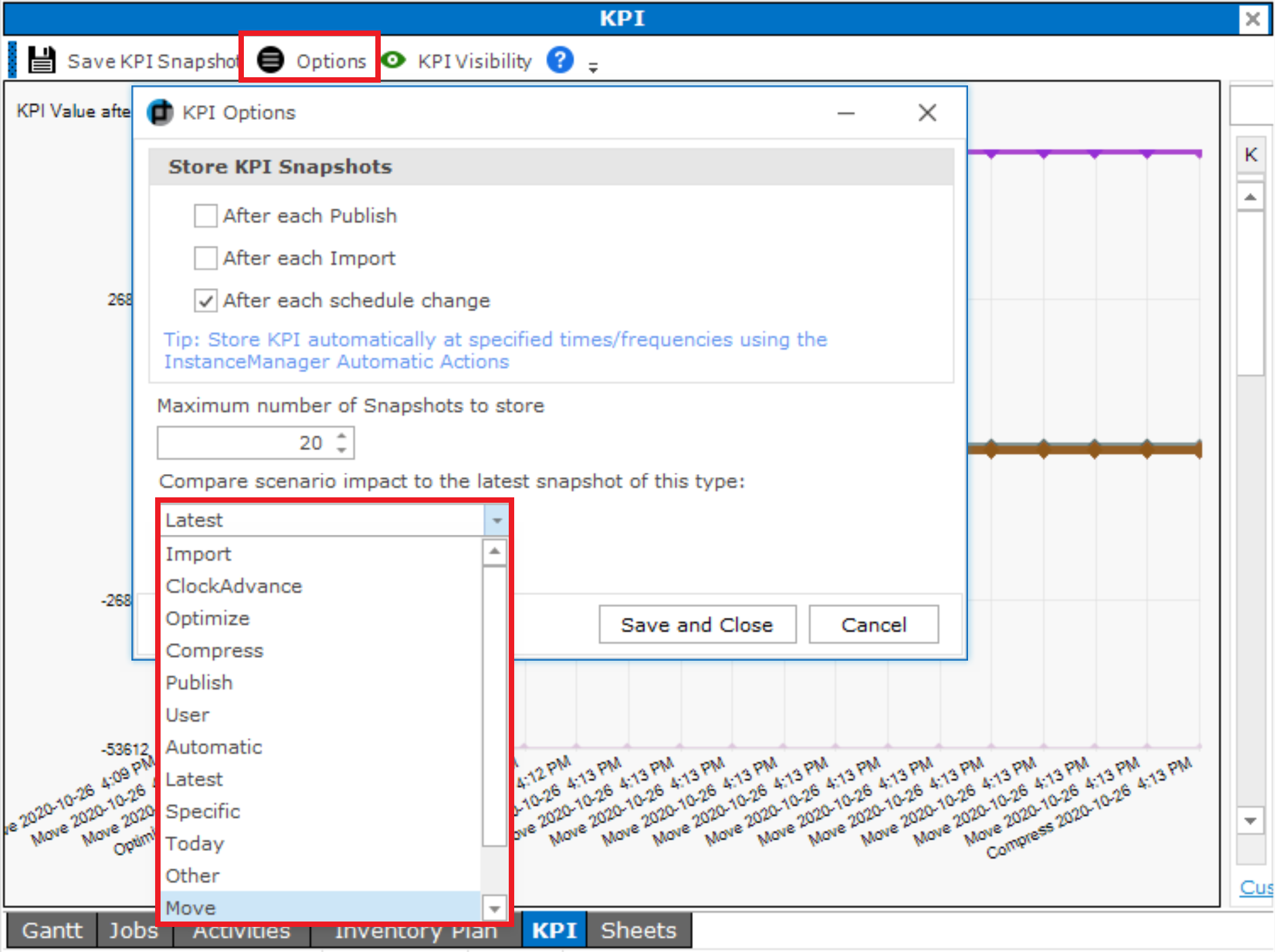 The available Impact Fields include:
Impact Earlier
Impact Entered Frozen Zone
Impact Late
Impact Lateness Change
Impact Later
Impact Left Frozen Span
Impact Less Early
Impact Less Late
Impact Newly Scheduled
Impact Newly Unscheduled
Impact On Time
Custom Alerts
You can create custom alerts from any grid by filtering on certain criteria. For example, to create a "Material Shortage" alert, go to the Materials grid and click the funnel icon of the "Unavailable Qty" column header.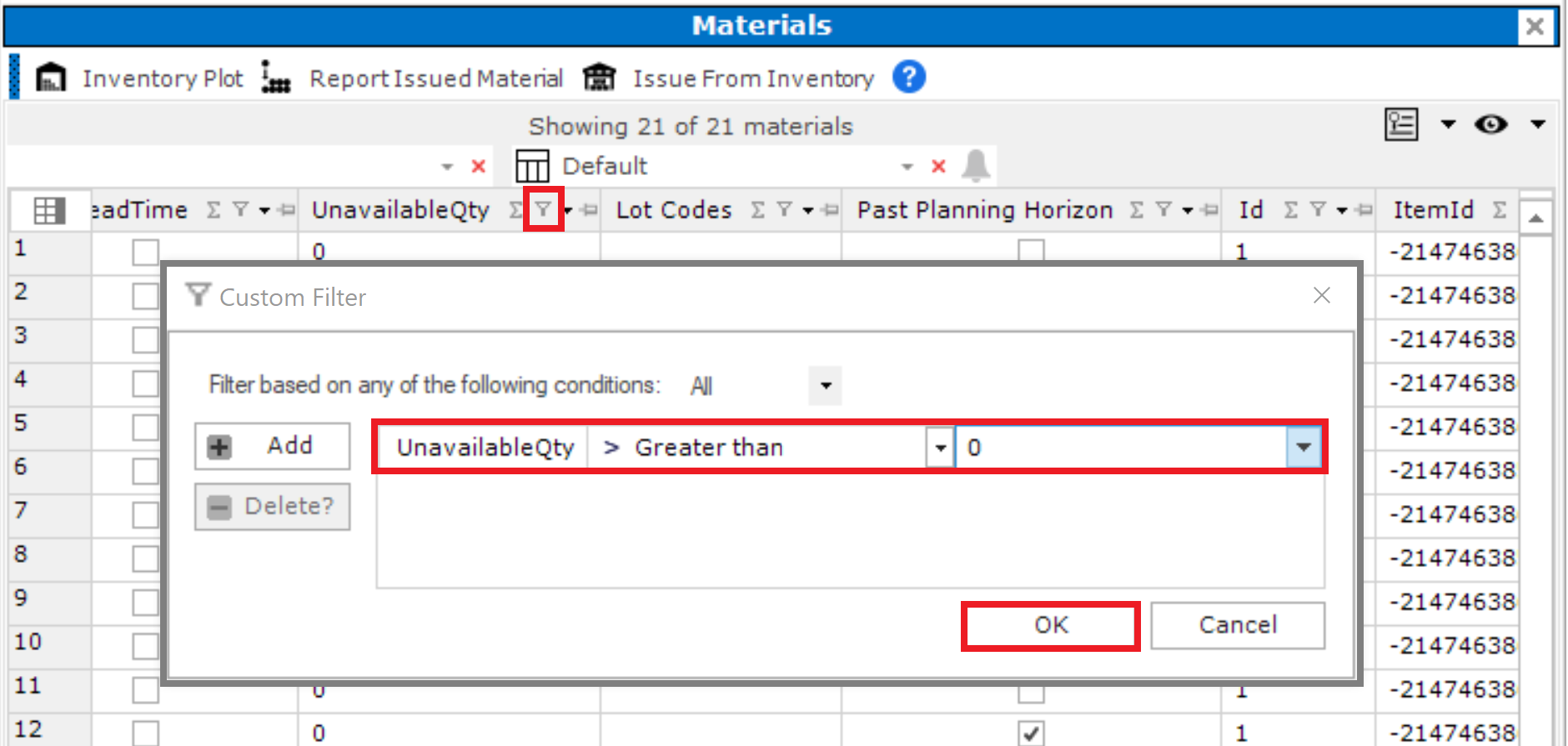 This will open the Custom Filter dialog where you can filter to only show jobs that have an UnavailableQty greater than 0.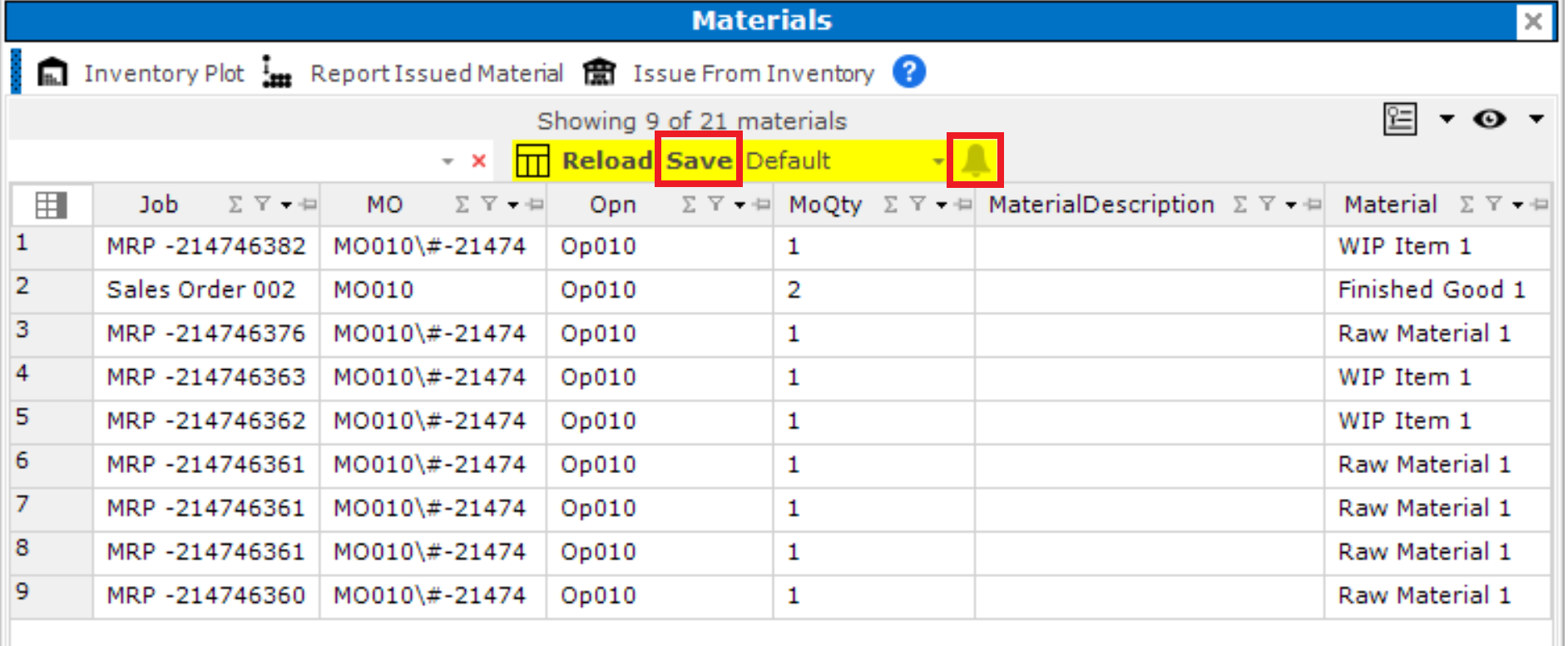 Then, save the layout and click the bell icon to create the alert. There will now be a new alert type at the top of the pane with the number of jobs with an UnavailableQty greater than 0.