PlanetTogether Integration Specification for Finance and Operations
Overview
Overview of the integration between PlanetTogether and D365:
Bi-directional flow of data between PlanetTogether and D365 (as specified in the Object Mapping section below)
Azure SQL Server-based using the Bring Your Own Database (BYOD) method, thus supporting "full push" or "incremental push" of data.
Highly configurable to adjust to various D365 configurations and usages.
D365 to PlanetTogether Process
To import data into PlanetTogether from D365, select entities are exported to an Azure SQL database. From there, SQL views are used to transform data into a form that is optimized for PlanetTogether to import. The PlanetTogether mappings wizard is then used to map this data to PlanetTogether objects.
Please refer to this Microsoft article for more information on the D365 feature that enables exporting entities into the Azure SQL database (also known as the "Bring Your Own Database" method).
Deployment Steps:
Create Azure SQL database
Configure entity export to the database in D365
Enable Change Tracking on entities below and publish them
Create an export project and add the entities below to it
Create views in the Azure SQL database by running the provided ImportDbViews Query
In PlanetTogether, setup an import connection to the Azure SQL database
In PlanetTogether, load the provided mappings file APSInterfaceSettings.xml
Entities
| | | |
| --- | --- | --- |
| Name | Target Entity | Standard |
| Sales order headers V2 | SalesOrderHeaderV2Entity | Yes |
| Sales order lines V2 | SalesOrderLineV2Entity | Yes |
| Purchase order headers V2 | PurchPurchaseOrderHeaderV2Entity | Yes |
| Purchase order lines V2 | PurchPurchaseOrderLineV2Entity | Yes |
| Warehouses | InventWarehouseEntity | Yes |
| Production bill of materials lines | ProdProductionOrderBillOfMaterialsLineEntity | Yes |
| Production route operations | ProdProductionOrderRouteOperationEntity | Yes |
| Production orders | ProdProductionOrderHeaderEntity | Yes |
| Inventory on-hand by warehouse and inventory status | InventWarehouseInventoryStatusOnHandEntity | Yes |
| Released Products V2 | EcoResReleasedProductV2Entity | Yes |
| Capabilities | OpResOperationsResourceCapabilityEntity | Yes |
| Operations resource | OpResOperationsResourceEntity | Yes |
| Operations resource capability assignment | OpResOperationsResourceCapabilityAssignmentEntity | Yes |
| Resource groups | OpResOperationsResourceGroupEntity | Yes |
| Resource group membership | OpResOperationsResourceGroupAssignmentEntity | Yes |
| Production route operation resource requirements | ProdProductionORderRouteOperationResourceRequirementEntity | Yes |
| Product attribute values | EcoResAttributeValueEntity | Yes |
Mapping of D365 Entities to PlanetTogether Objects
Note: Standard Routings, Standard BOMs, and Forecasts are currently not supported.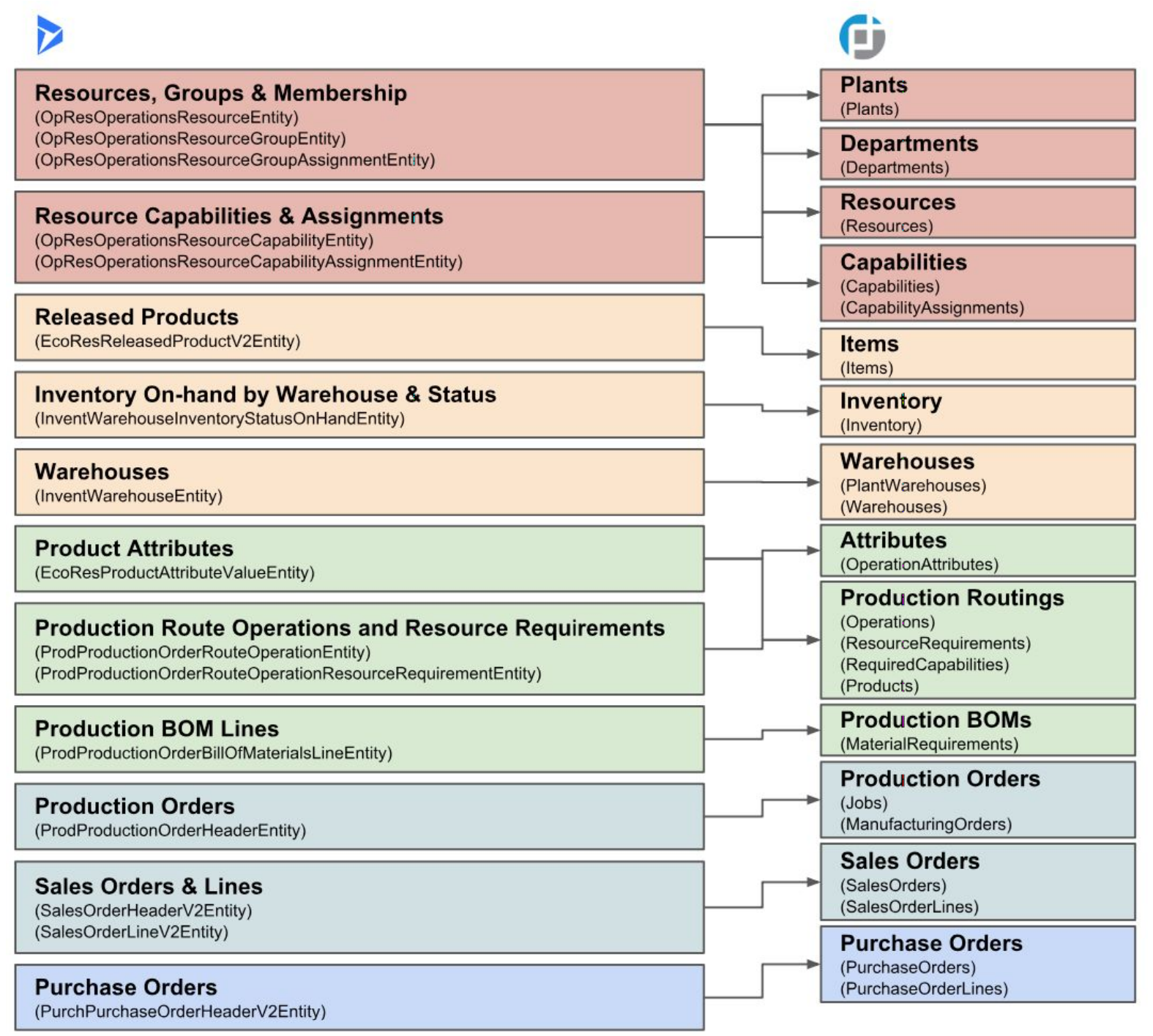 PlanetTogether to D365 Process
D365 can be updated with the latest scheduling data from PlanetTogether by running the Publish process from PlanetTogether. This process updates data in the PlanetTogether SQL database and then calls a program that queries this data and calls the Web Services provided for D365.
Install custom services by loading the provided PTInboundService.app file.
Place the PlanetTogether publish program PTAXPublish somewhere on the server.
Configure PlanetTogether to call the program after publishing it to the database.
Program Arguments: PtPublishDbConnectionString AxURL ActiveDirectoryTenant
ActiveDirectoryClientAppId ActiveDirectoryClientAppSecret
D365 Objects and Fields Updated
Procedure calls: UpdateDate, UpdateDeliveryDate, UpdateQuantity*, UpdateResource, UpdateStatus**
* Used only if Quantities are being updated manually in PlanetTogether
** Used only if D365 ProdTable.ProdStatus needs to be updated; this is not typical
ProdTable
Associated Procedure
D365 Table.Field
PT Table.Field
Description
UpdateDeliveryDate
ProdTable.DlvDate
Job.ScheduledEndDateTime
Requested date of delivery or finish report
ProdTable.DlvTime
Job.ScheduledEndDateTime
Delivery time
UpdateStatus
ProdTable.ProdStatus
Custom

Production Status
0 = Created
1 = CostEstimated
2 = Scheduled
3 = Released
4 = StartedUp
5 = ReportedFinished
6 = Completed

UpdateQuantity
ProdTable.QtyCalc
Job.Qty
Quantity cost estimated
ProdTable.QtySched
ADD (Job.Qty - ProdTable.QtySched)
Scheduled production quantity
ProdTable,RemainInventPhysical
ADD ((Job.Qty - ProdTable.QtySched) + ProdTable.REmainInventPhysical)
Quantity not yet reported as finished
UpdateDate
ProdTable.SchedStart
Job.ScheduledStartDateTime
The date that the project is scheduled to begin
ProdTable.SchedFromTime
JobScheduledStartDateTime
Scheduled start time
ProdTable.SchedEnd
JobScheduledStartDateTime
The date that the project is scheduled to finish
ProdTable.SchedToTime
JobScheduledStartDateTime
Scheduled end time
ProdRoute
Associated Procedure
D365 Table.Field
PT Table.Field
Description
UpdateQuantity
ProdRoute.CalcQty
Operation.RequiredFinishedQty
Calculated quantity in for this operation
UpdateDate
ProdRoute.FromDate
Operation.ScheduledStart
The date that the project is scheduled to begin
ProdRoute.FromTime
Operation.ScheduledStart
Scheduled start time
ProdRoute.ToDate
Operation.ScheduledEnd
The date that the project is scheduled to finish
ProdRoute.ToTime
Operation.ScheduledEnd
Scheduled end time
UpdateResource
ProdRoute.WrkCtrlDCost
JobResourceBlock.Resource.Name
The resource used for costing purposes
ProdRouteJob
Associated Procedure
D365 Table.Field
PT Table.Field
Description
UpdateDate
ProdRouteJob.FromDate
Operation.ScheduledStart
The date that the project is scheduled to begin
ProdRouteJob.FromTime
Operation.ScheduledStart
Scheduled start time
ProdRouteJob.ToDate
Operation.ScheduledEnd
The date that the project is scheduled to finish
ProdRouteJob.ToTime
Operation.ScheduledEnd
Scheduled end time
UpdateResource
ProdRouteJob.WrkCtrlD
JobResourceBlock.Resource.Name
Identify the resource
Additional Resources