Connecting to an Instance
Key Concepts
The PlanetTogether APS Client Sign-In allows remote computers to connect to the same PlanetTogether instance. To add a connection to the server, click on the "Change Connection" drop-down and select "New Connection." Next, enter the server's IP address, leaving the port at 7991, and click Save. Once the connection has been added, select your instance from the dropdown menu.
User Name: This is the case-sensitive name of the user who is logging in. This is required to log in.
Password saving can be disabled for increased security. To do this:
Set "allow password saving" to 'false' in the APS.net Client.exe.config file stored in the Program Data files on the APS.net Server. (Setting it locally will only work temporarily until the next client session when the Client Updater overwrites the local file.)
Restart the Client Updater Service on the Server, so the updated config file is loaded into memory. Failing to do so will cause the old settings to continue to be used by clients.
Options
There are two settings in the options section. These settings are optional and will affect the way the program logs into the server.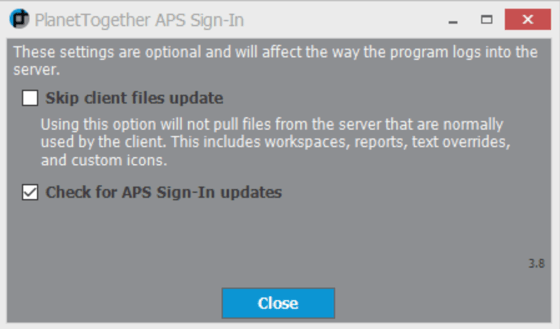 Skip client files update – Enabling this option will not pull files from the server that the client normally uses and may help speed up slow login times. The files that may be affected include:

Workspaces
Reports
Text Overrides
Custom Icons

Check for APS Sign-In updates – This is checked by default, and when unchecked, will not search for updates to the login client when it opens. If this option is enabled and an update becomes available, a message at the bottom of the login client will alert users of this.
Slow Login or Errors While Logging In
Initial login can take some time if you connect over a slow network because all of the system data is transferred during the login.
If the login fails, it is usually due to one of the following reasons:
Invalid Username or Password.
Not enough user licenses are available. In cases where a client session stopped abnormally, the license remains in use until the Client Timeout interval has passed (specified in Interface Manager | Clients | Client Timeout).
A Firewall on the computer that is running the APS.net System Service.
The APS.net System Service is not running on the server and port specified in the APS.net Client.exe.config file, as shown in an example below.
<wellknown type=" PT.Scheduler.PTBroadcaster, PT.Scheduler"
url="http://<SERVER IP or COMPUTER NAME>:<PORT>/PTBroadcaster.soap"/>