Key Concepts
Multi-Tasking environments can be modeled in PlanetTogether with the help of resource and operation-related settings.
To model a Multi-Tasking environment, settings must be changed on both the Resource and the Operation in question.
Attention Percent
To set up a Multi-Tasking environment, resources must be flagged as "Multi-Tasking." This can be done by double-clicking on a resource from the Gantt to open the Resource options. Then, in the "Capacity" tab, changes the Capacity Type to "MultiTasking."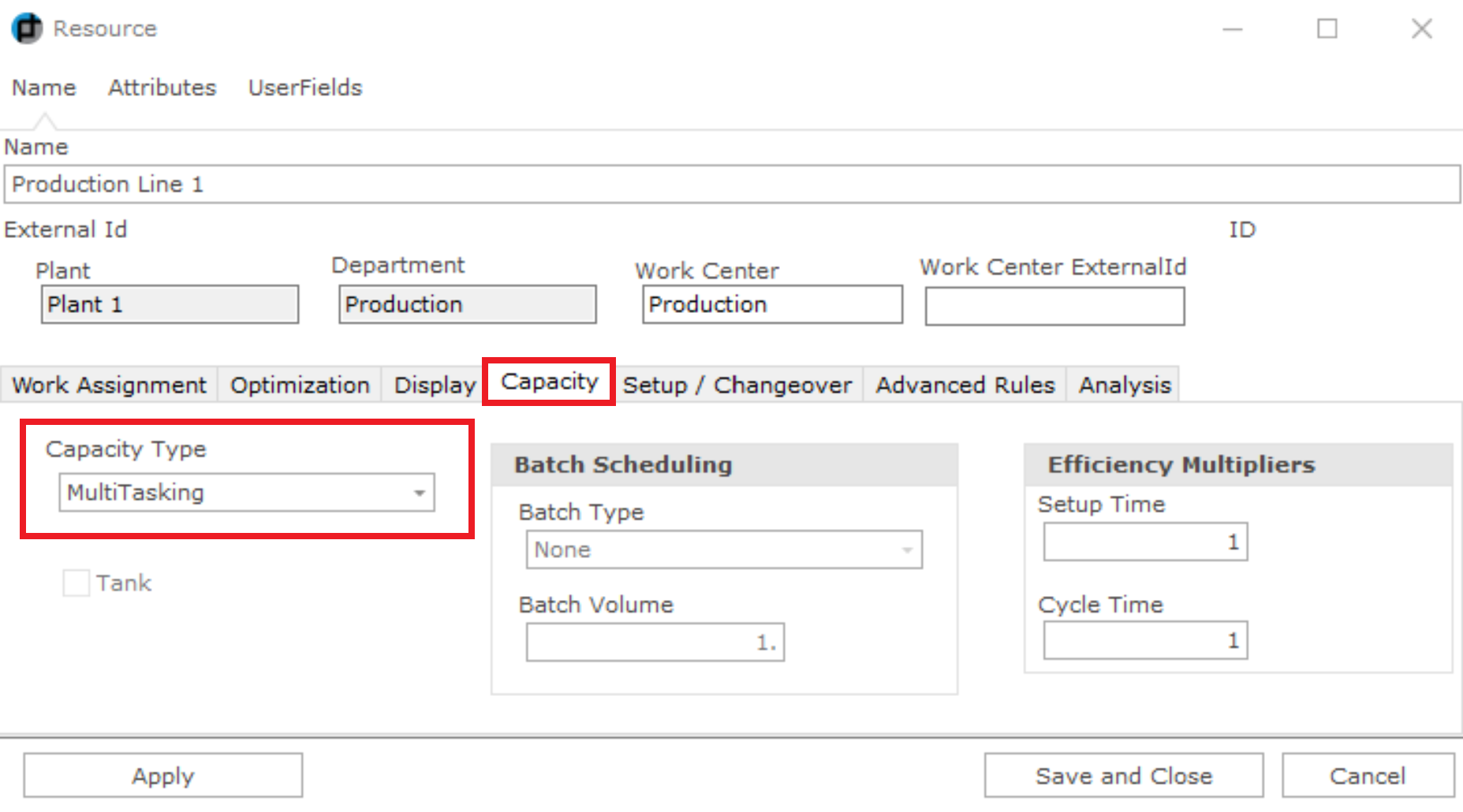 Note that multi-tasking resources can calculate and schedule setup but cannot do so in a sequence-dependent manner. When configuring a mulit-tasking resource, be sure to set the "Setup Included" option on the "Setup / Changeover" tab to either "Always" or "Never" depending on the resource setup requirement.

It is not enough to set a resource as "Multi-Tasking" since we assume it has a finite capacity. This is to prevent new operations from endlessly getting scheduled to the same time slot (as with Infinite Capacity resources). Therefore, we must first set the resource as Multi-Tasking, then set the Attention Percent on the operation to allow additional operations to be scheduled simultaneously.
The Attention Percent is the amount of the resource's "attention" required to run that particular operation. An Attention Percent of 100 means that the entire resource is consumed with that operation and will function as a single task. An example of this would be the scheduling of space on a mold or a workbench.
The Attention Percent of the operation can be set in the "Operation | Resources | Resource Requirements" tab of the Job dialog.

The cumulative Attention Percent of all the Operations at a given time cannot exceed 100%, or the operation in question will be pushed out till after there is enough space for it.
Number of People
The Number of People can also be used when defining an operation that will be part of a multi-tasking resource's schedule. Changing the Number of People must be reflected in the Operation, under the Status tab in a field called "Nbr. of People" and setting the "People Usage" field to "Use Specified Nbr."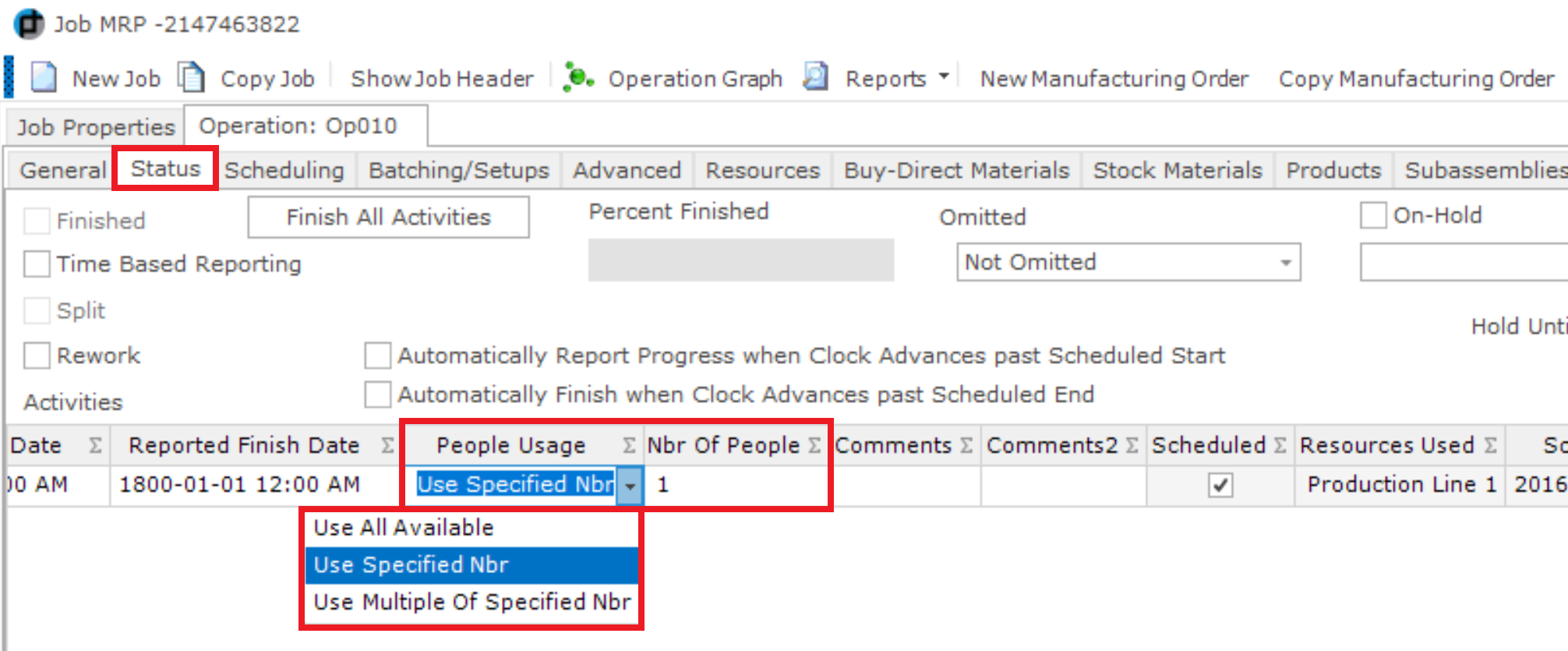 On the Capacity Interval itself, change the "Nbr Of People" field.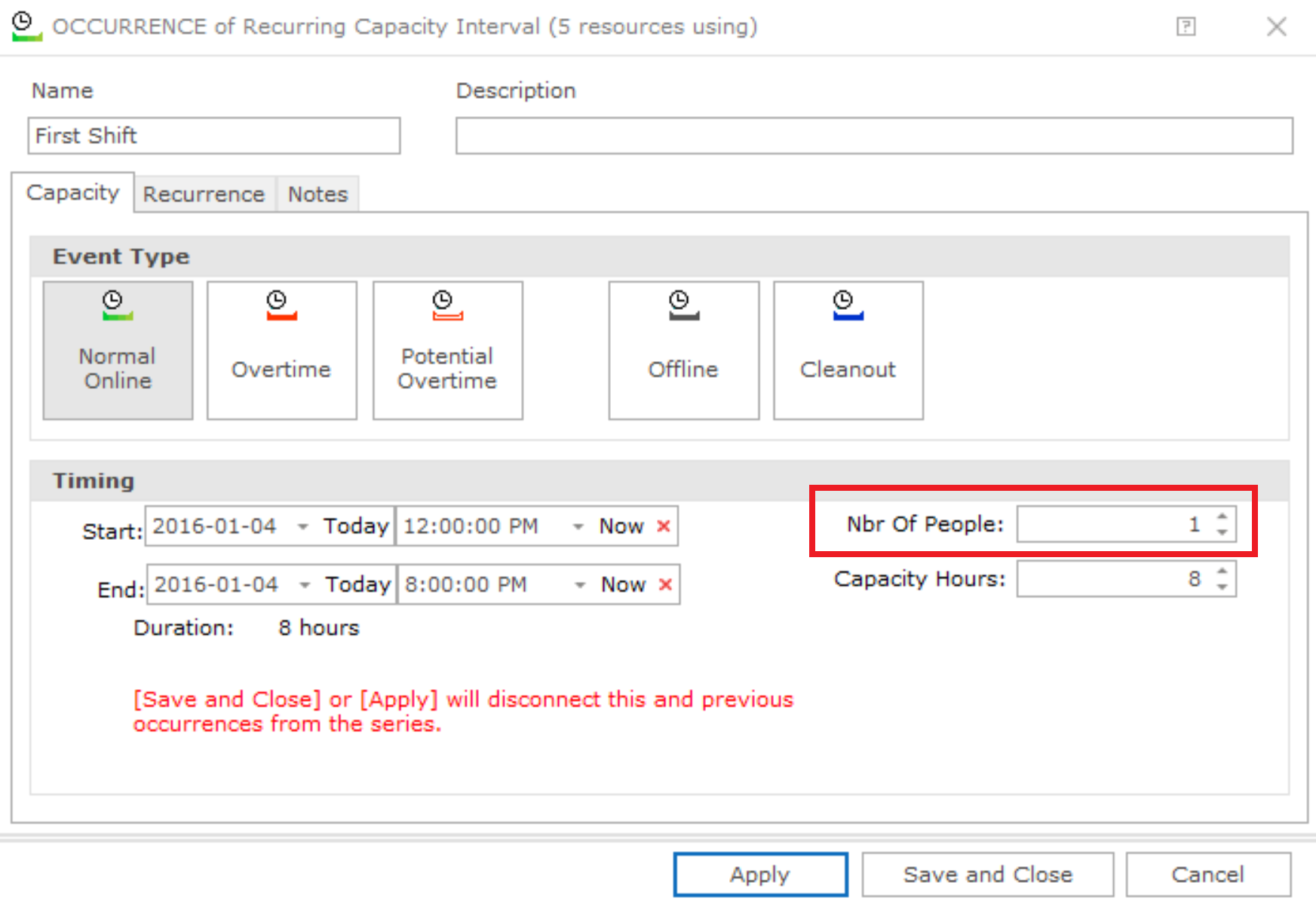 Special Considerations
Multi-tasking can schedule setup time but cannot do so in a sequence-dependent manner.
Multi-tasking resources don't seem to offer many advantages. On the contrary, they can create confusion when moving things around because the activities can "jump around" from top to bottom based on the exact timing.
Multi-tasking resources support the "IfSchedulable" customization. If the function returns false, it won't be used to satisfy the resource requirement, regardless of the resource.