Key Concepts
Purchase Orders are orders for additional material from external or internal vendors generally created for raw or intermediate materials. They represent an increase in supply for materials and help keep the inventory plan up to date with incoming and outgoing quantities when materials are used to supply jobs.
Purchase orders are typically imported (the relevant fields can be found here). However, they can also be manually created in the purchase orders view.
Maintenance Method: This property can be used to track how the purchase orders are maintained.

ERP/Imported: The purchase order was imported into PlanetTogether.
MRP Generated: The purchase order was created by MRP in PlanetTogether.
Manual: The purchase order was manually created or modified in PlanetTogether.
Manually Creating Purchase Orders
Select the Purchase Order view from the Views drop-down menu.
Click on the "New" button to open up the Purchase To Stock dialog.
Fill in the field details for the specific purchase order and click on Save and Close to create it.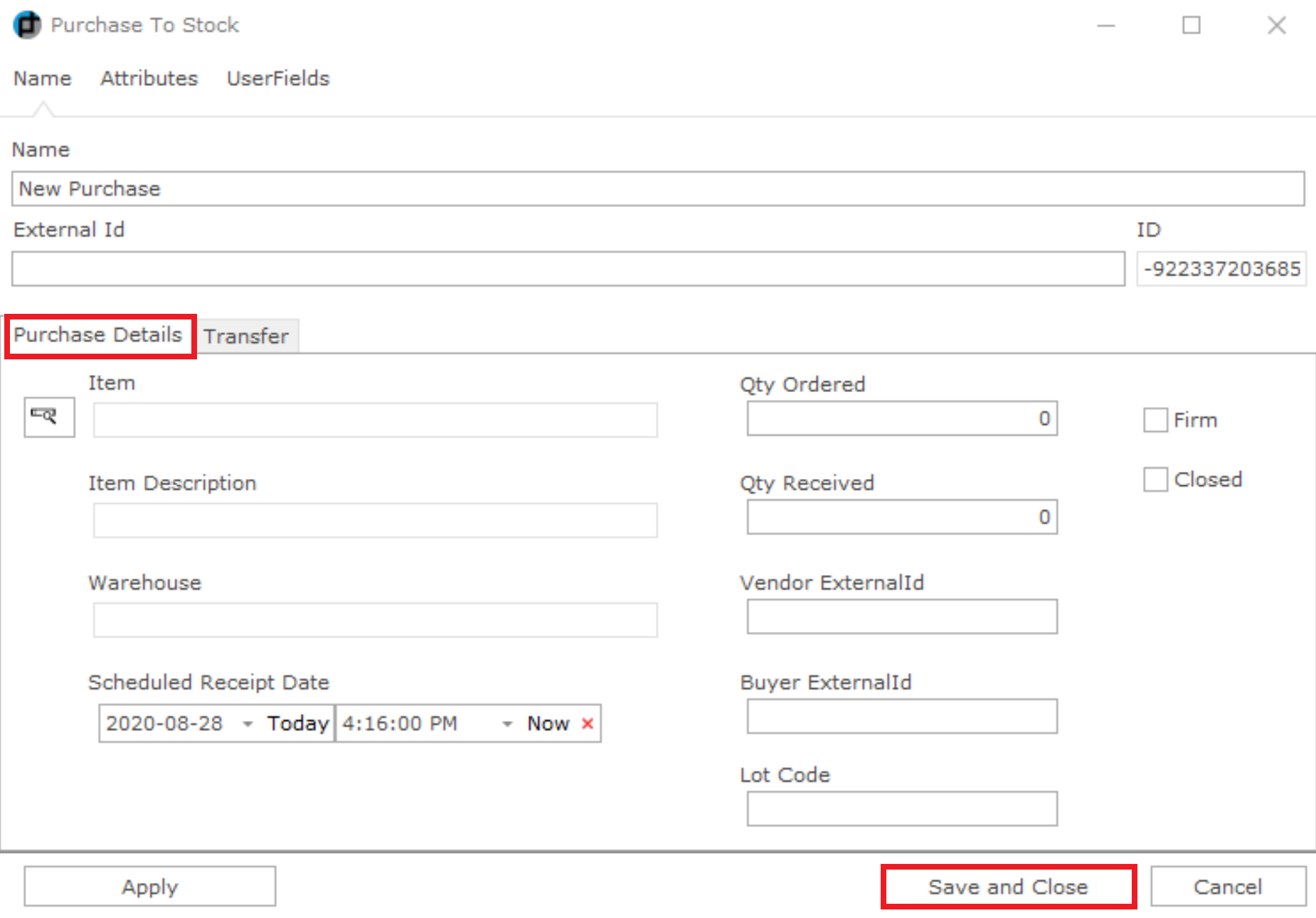 Name: This is the name of the purchase order.
External Id: The External ID inherited from the ExternalBaseIdObject
ID: Unique, the unchangeable numeric identifier.
Description

: Text for describing the object.
Purchase Details
Item: This is the item that is being purchased.

Note: you can search through the list of items by clicking on the button immediately to the left of this field and select the appropriate item.

Item Description: A description of the item can be added.
Warehouse: The warehouse where the items will go when received.
Scheduled Receipt Date: A specific day and time can be set when the items are expected to be received.
Qty Ordered: This is the quantity that was purchased.
Qty Received: This is the actual quantity received. This number will be the same as Qty Ordered if the entire purchase order was received. Otherwise, the actual quantity received can be adjusted.
Vendor External Id: The company the materials are ordered from.
Buyer External Id: The individual responsible for the purchase.
Note: The following fields are required to create a new purchase order:
Item
Warehouse
Scheduled Receipt Date
Qty Ordered
Qty Received
Transfer
Unload Span: this is used to specify the time it will take to unload the items.
Transfer Span is used to specifying the amount of time it will take to transfer the items to the warehouse. The item cannot be used until this amount of time has passed after the scheduled receipt date.
Receive With Adjustment
If you have not yet received the purchase order, set the Qty Received field to 0. Then, when you receive the order, select the appropriate purchase order from the list on the Purchase Order view and then click on Receive if the quantity received matches the quantity ordered.
Otherwise, click on Receive with Adjustment to specify the quantity that was received.