Key Concepts
Kinaxis and PlanetTogether (PT) have partnered to provide a standard integration solution between their respective Planning and Scheduling systems.
This allows you to use RapidResponse (RR) to create a plan and then have PlanetTogether automatically create an optimal production schedule. The schedule results are then sent back to RR for review.
You now have an accurate, optimal, and forward-looking production schedule to work with.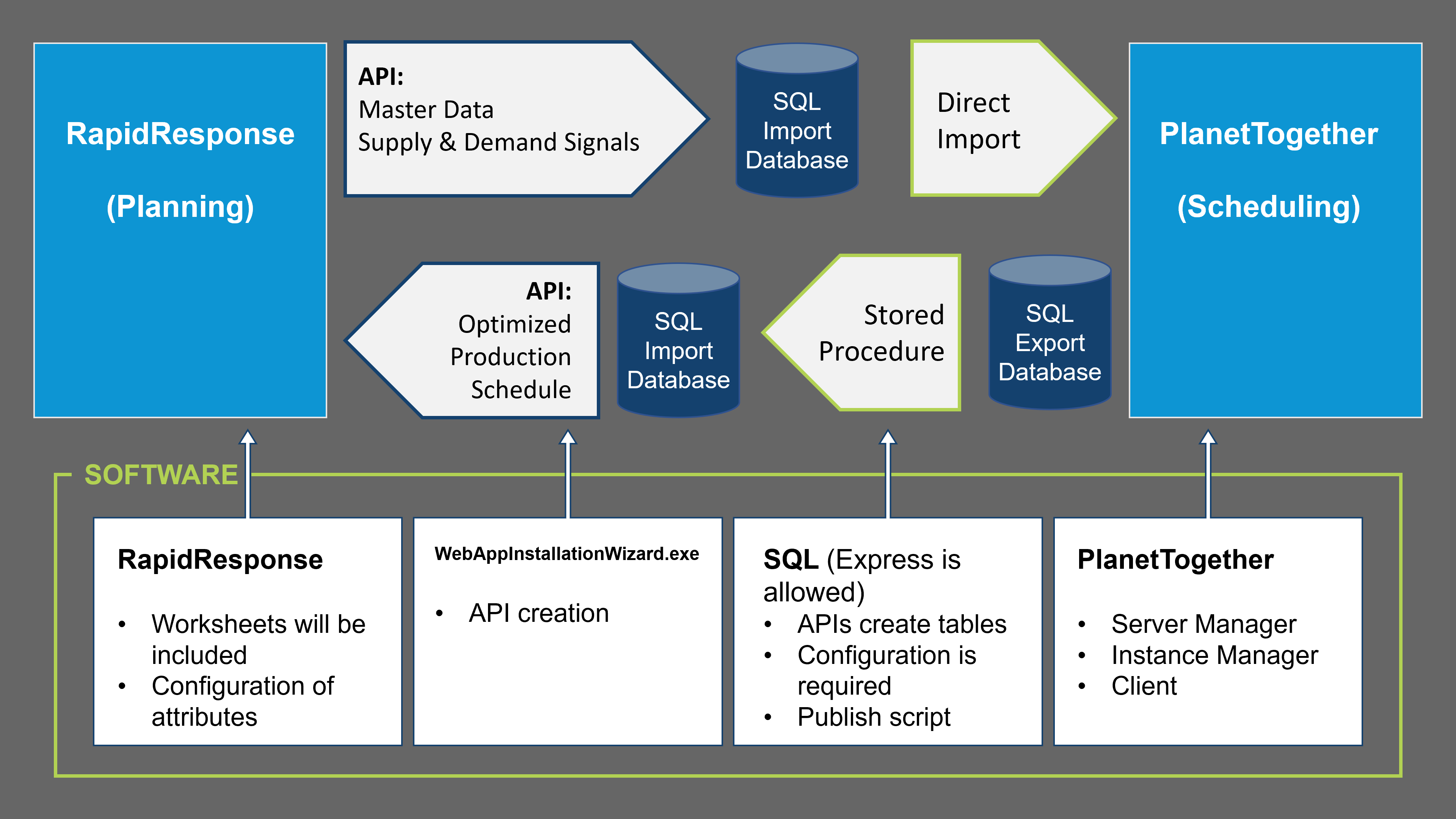 RapidResponse: This is the planning system
This includes pre-configured Worksheets to extract the needed Master Data and the appropriate Supply & Demand Signals.
Additional Worksheets can be used to configure Item Attributes. These Attributes are used to calculate sequence-dependent setup times.
API: These transfer data between RapidResponse and PlanetTogether over the web via REST-based technology.
The API needs to be created and configured to transmit data from a specific Scenario within RapidResponse.
The program used to create the APIs is WebAppInstallationWizard.exe which is included when you download the PlanetTogether software.
When the API is created, it created tables in the SQL Import Database. These tables are then configured for access to the appropriate data.
SQL: SQL Express can be used to host 2 Databases:
SQL Import Database: This is used to import data from RapidRepsonse into PlanetTogether. It is also used to house the API configuration tables and the Publish Stored Procedure.
SQL Publish Database: This is used to publish the schedule back to RapidResponse. This also includes a SQL View that can be adjusted to limit what information returns to RapidResponse.
PlanetTogether: This is the scheduling system. The installation creates 3 components:
Server Manager: This is the behind-the-scenes controller that is installed once and keeps everything in sync.
APS Instance Manager: This is an administrative tool that allows you to create, configure, and control all Instances of PlanetTogether in your environment.
APS Client: This is a universal client that gives you access to the UI and scheduling tool.
These 3 components can be downloaded from our website at download.planettogether.com.
This seamless integration relies on the technology available, starting in version H2011 of RapidResponse and version 11.43.2 of PlanetTogether.
Setting Up
To set up the integration, you will need:
RapidResponse Worksheets: These can be provided by Kinaxis.
PlanetTogether Files: These are included when you download the software from download.planettogether.com
Instructions on the installation process to integrate with RapidResponse can be found here.
The data for the Plan comes in the form of Master Data plus Supply & Demand signals. Most of the data is preconfigured in the RapidResponse Worksheets by referencing existing elements within the RR data store. In addition, some worksheets allow you to enter configuration data associated with the use of sequence-dependent setup.
Integration component documentation: <coming soon>
This is an integrated solution between a Planning and a Scheduling system with APIs used to transfer data between the systems. As with any integrated system, issue diagnosis can be a challenge. For example, we might see the results of an issue in the form of an error message. Alternatively, we might see the results in the form of an unexpected schedule. The cause of the issue may reside in PlanetTogether, RapidResponse, or even in the APIs.
Troubleshooting documentation: <coming soon>
Related Articles