Changes for version 11.49.10 released July 9, 2021
Support TLS 1.2 for Client to Server Connection
All client and server communication is encrypted with SSL using a certificate.
Display Admin Message on Login
An administrator can set a global message that will be displayed to all users upon login. Click here for more information about the feature.
IM Version: 12.0.53+
System Events Log
New Audit Logs will be stored in SQL with the following information:
The time of the action
A description of the action
The user that triggered the action
The scenario(s) that was affected
If you have a database defined in the 'Diagnostics' tab of the Instance Manager, these logs will be automatically logged in SQL (as well as the Recordings folder) to allow easier reporting.
Version: 11.48+
Password Complexity can be Customized
Admins can enforce and customize the complexity of user's passwords.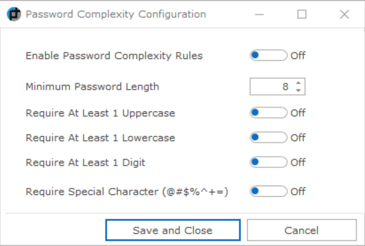 Version: 11.48+
Headstart: Option to Account for Offline Time
A new Release Rule option allows HeadStart calculations to account for resource capacity and offline intervals. This is useful for users with a short head start as activities released on offline capacity intervals (e.g., weekends) are pushed to the next available interval (e.g., Monday), which causes unused capacity at the end of the week and bottlenecks on Monday.
Version: 11.48+
Add AVEVA MES Integration Files
PlanetTogether APS can now be integrated with AVEVA MES. The files required for the integration be downloaded from our web installer.
Secure Connection Strings
Security improvements will ensure that connection strings are not shown in plain text and that passwords are not displayed in the Instance Manager.
IM Version: 12.0.50+
Allow Admins to Sign Out Users
A new feature allows users with administrator permissions to log off users or a group of users that have an active connection. Additional information for this feature can be found here.
Version: 11.46.4+
Automatically Log Out Inactive Users
A new setting can be used to automatically log off users who have been inactive for a specified amount of time. The 'Auto Logoff Users' option must be enabled in the System Options, and the 'Auto Logoff Timeout' can be used to specify the maximum minutes of inactivity allowed. This feature is disabled by default. Additional information for this feature can be found here.
Version: 11.46.4+
Efficiency Window Extension
An extension to allow operations to schedule before their normal release if they have a significantly better optimize score based on the optimization rules in use. This can be used to reduce unnecessary headstart to group orders or reduce setup. Additional information on this extension can be found here.
Version: 11.46.4+
Recurring Capacity Intervals: Add Import
Recurring Capacity Intervals can now be imported.
Version: 11.46.1+
Extension Sample: Capability Effective Ranges
A new extension sample for time-phased capabilities is now available on the knowledge base. This allows adding or removing capabilities on resources for planning in the future.
Add MaintenanceMethod to Purchase Orders and Transfer Orders
Purchase Orders and Transfer Orders will now have a "Maintenance Method" property similar to Jobs to show whether orders are Imported or Manually maintained.
Add the Low-Level Code to the Job/MO Data Fields
The Low-Level Code will be visible on MRP-generated jobs.
Uninstaller for PlanetTogether
PlanetTogether can be uninstalled from Windows using an uninstaller application.
Track PlanetTogether User Performance
PlanetTogether now tracks system metrics.
Version: 11.44.3+
Automatic Actions: Add MRP flag for Optimize
MRP can now be run via Automatic Actions. This is found in the Instance Manager under the "Automatic Actions" tab.
Version: 11.44.4+
Available Date in Stock Materials Tab only Shows 1/1/1800
The AvailableDate field in the Job Dialog Stock Materials grid will show the latest material source date for Stock Materials.
Version: 11.84.3+
Error with Finding a Job on the Gantt
Improved the Gantt searching capabilities for cases in which the search criteria were ambiguous.
Version: 11.48.2+
Copying a Job to create a Template causes a "FailedToSchedule" Issue
Additional notes will be added to clarify the "FailedToSchedule" error. Setting the NeedDate to a future date when copying a job to use with CTP will result in a "Failed to Schedule" result.
Version: 11.48+
MRP: Batching Logic to Fill Minimum Batches
MRP will attempt to fill batches better when there is a minimum batch size and several remainders with significantly differing quantities.
Version: 11.48+
Alternate Paths With Helper Resources Not Showing Yellow Circles for Additional Path Options
The Gantt will now better display eligible and Alternate Path Resources when using Alternate Paths with Helper Resources.
Version: 11.47.3+
Users Duplicate Resources when No Permissions Given
Fixed an issue where View Live only users were able to duplicate a Resource on the Gantt.
Buffer Management Workbench: Does not plot correct values
Improved the Buffer Management Workbench tool to plot the values presented in the grid view correctly.
High Volume Error Logging Issue
Fixed an issue where the UI would freeze when logging an abnormally large number of exceptions after a simulation.
Version: 11.46.3+
Cells: When Activity is Finished, Keep Successors on the Same Cell
A new field called ActualResourcesUsed can be imported from the Internal Activity mappings. This field is used as part of an extension that links the activity to a resource. If the Activity is finished and associated with an ActualResourceUsed, and the Resource specified is part of a cell, successor Operations will be scheduled on Resources in the same cell.
Successor MO constrained by Predecessor MO even then Reported Dates change.
When the Reported Finish Date of a Predecessor MO is changed (e.g., moved to an earlier time), the scheduler will recalculate the Successor MO constraints.
Version: 11.46.1+
Wear LotControl is not allocating inventory to the Job
When using the LimitMatlSrcToEligibleLots property, you must now set a Lot Code, or else an error is shown.
Version: 11.45.2+
RapidResponse Integration: Return trigger response if the Instance is inactive
A warning will be returned if a trigger action is sent for an instance that is not active.
RapidRespnse Integration: Add PartsFilter Configuration
Added a PartsFilter column to the WorkbookConfiguration table to retrieve the workbook using a filter for certain parts. This is optional and will default to "All Parts" if left null.
RR Version: 1.8.1+
RapidResponse Integration: Add Timeout Overrides
Added an RRTimeoutOverrideMinutes column to the IntegrationConfiguration table that allows users to set a longer timeout interval. If left null, it will use the default 100-second timeout value.
Move PTSchedulerLog to the System Alerts folder.
The PTSchedulerLog has been relocated to the System Alerts folder.
CTP: Entering Items Stops After 2 Digits
The Item column drop-down's autocomplete feature works more intuitively in the Capable to Promise dialog and has no timeout.
Version: 11.45+
Active Directory Login
A new Active Directory functionality allows adding all users in an Active Directory group with a specific permission level. There is also the ability to remove all users in an AD group. This is found in the Instance Manager under the "Clients" tab.
Version: 11.44.3+
KPIs: Finished Jobs Data
Finished Jobs are no longer included in KPIs that are based on scheduled orders. In addition, finished job data is excluded from certain job-related KPI calculations such as % Late Jobs.
Version: 11.43+
Customizations are now called "Extensions."
All references to Add-Ins and Customizations will now be referred to as Extensions.
Error When Refreshing From Remote Client
Fixed an issue where an Import caused an error when connecting to the server remotely.
Version: 11.49.5+
Error When Switching Alternate Paths When it is Identified As Valid
Fixed an issue where the Alternate Paths Move dialog was not showing the correct eligible paths.
Version: 11.49.5+
Exclude From Gantts Import isn't Working Consistently
Fixed issues related to the import of the "ExcludeFromGantts" property in the Resource Mappings.
Version: 11.48+
Expediting an MO Causes Successors to Get Un-Locked
Fixed an issue where expediting a job would cause its successor manufacturing orders to be unlocked from the resource.
Unable to Log In When the System is Busy
Fixed an issue that caused a timeout when logging in while the system was busy processing another action.
Version: 11.48+
ShelfLife not Enforced from Purchase Order
Fixed an issue where ShelfLife was not enforced when pulling material from a Purchase Order. As a result, once the Shelf Life of Purchase Order has passed, the material should not be eligible for use by a Job and will not be scheduled.
Version: 11.48+
When deleting a Scenario, the UI Refresh Button is Not Updated
Resolved a rare issue, with multiple scenarios, that could cause the Refresh and Scenario buttons to be shown incorrectly for the current scenario.
Version: 11.47.3+
Exception Error When Running an Optimize
Added validation to prevent omitting an Operation that has a status of PostProcessing. The error was caused by the incompatibility of having a job in a non-running state being committed. The added validation will prevent this and allow optimization to run.
Version: 11.47.3+
Typo in MPS/MRP Optimize Window
Fixed a typo in the MPS/MRP Optimize settings window.
Version: 11.47.2+
Operation JIT (Start By Date) is miscalculated on a Route with overlapping Operations.
Fixed an issue where the Operation Start By Date was being set incorrectly. The Start By Date is calculated by the Op Need Date - JIT Slack Days.
Version: 11.47.2+
Instance Manager Override Service Logon Bug
Fixed an issue where the Extra Services and Interface Service User Logon was reset when changing unrelated settings from the Instance Manager. The Extra Services and Interface Services now restart automatically if a related setting is modified.
IM Version: 12.0.46+
Desynch Occurs When Importing To Multiple Scenarios
Fixed an issue when importing to multiple scenarios was causing a desynch error.
Version: 11.47.1+
Optimize Rule summary shows 'Productivity' instead of 'Financial.'
Fixed an issue where the wrong type of Optimize Rule was displayed in the optimize rule summary table.
Version: 11.46.4+
Product Lot Code is cleared when importing a NULL value
Fixed an issue where importing a NULL value for the Product LotCode would clear the one previously generated by MRP.
Version: 11.46.4+
The user gets an Error Message when they move a Job after canceling a previous Job.
Fixed an issue where users received an error message when they moved a Job on the Gantt after another Job on the same Resource was canceled.
Version: 11.46.4+
Sheets: Standard Hours
The Standard Setup Hours can now be imported from the Sheets View.
Version: 11.46.4+
Capacity Plan - Scheduled Units
Fixed an issue where the Scheduled Units displayed on the Capacity Plan did not match the Operation Quantities scheduled on the Gantt.
Version: 11.46.4+
Instance Manager: Failure to Copy Instance Settings
Fixed an Instance Manager issue where copying instance settings on an Instance copy or upgrade did not work.
Instance Manager Version: 12.0.45+
Material Post Processing Span on the Product Rules is not Imported
The MaterialPostProcessingSpan can now be imported on Product Rules.
Version: 11.46.1+
Standard Reports are Not Installing
The Standard Reports are now copied to the correct directory when creating a new instance.
Version: 11.44.4+
Predecessor Resource Connector is constraining incorrectly.
Connector TransitTime is now only added from the predecessor operations finish time with a resource connector. Previously, it was added after the finish time of all predecessor operations, which created an unnecessary delay.
Version: 11.44.3+
Transfer Orders will not import unless Job Objects are turned on
Fixed UI not refreshing after importing Transfer Orders without Job Objects enabled in Import Mappings.
Version: 11.44.2+
Import: MinRemainingShelfLifeHours not importing on the material record
Removed the requirement for users to import a "UsabilityRequirement" field from their "MaterialRequirements" table to successfully import-related LotUsability fields such as MinAgeHrs MinRemainingShelfLifeHrs, MaxEligibleWearAmount, etc. Now, a user only needs to have the "LotUsability" fields set appropriately on their Item.
Version: 11.44.0+
Object Reference error when deleting an Attribute Code Table
Fixed an error when deleting Setup Tables in the Scenario Data settings.
Version: 11.44.0+