Key Concepts
Any number of User Defined Fields can be added to Jobs, Manufacturing Orders, and Operations. They are visible in the Jobs pane and can be added to the Gantt Labels. Custom Add-ins can also access them.
Setting Up User Defined Fields
User Fields are imported via the Interface Wizard, and multiple fields must be separated by ";"
The values for each field are specified as: <field name>~<value>~<data type>~<display in UI>.
(Valid data types are: string, int, long, double, decimal, DateTime, and bool)
Note: The 4th portion of the UDF is a boolean value that can be imported to display that UDF in the UI grids.
EXAMPLE: this would create one Field, called "DateTestColumn," that would appear in the grids. If the last portion were set to 'FALSE,' the UDF column would not appear in the grids.
'DateTestColumn~' + Date_String + '~DateTime' + '~TRUE'
If we wanted to create two columns, the source would look like this:
'DateTestColumn~' + Date_String + '~DateTime;DateTestColumn2~' + Date_String + '~DateTime'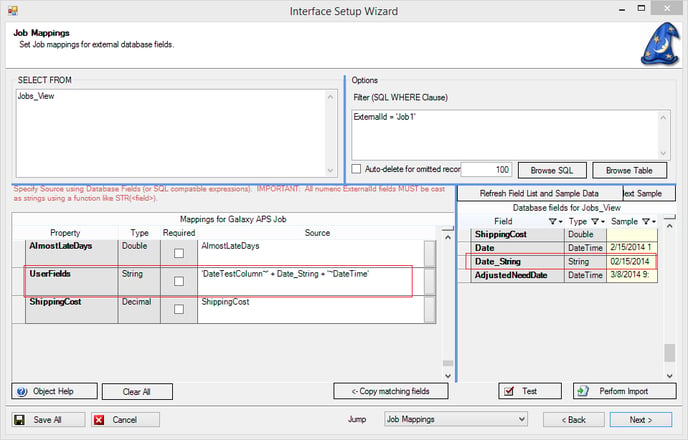 The fields are visible on the right edge of the Jobs Pane:

UDFs can be imported from the following Objects:
Users
Plants
Departments
Capabilities
Resources
Product Rules
Items
Warehouses
Sales Orders
Forecasts
Purchase to Stock
Transfer Orders
Jobs
Manufacturing Orders
Resource Operations
Cells