At PlanetTogether, we are always looking to improve our software. If you have any suggestions that can improve your experience with our software, please submit them here:
In this portal, you can make new suggestions, vote on existing suggestions, and be notified about the status of those ideas.

Suggest a New Idea
Click the "Add a new Idea" button found in the upper-left corner of the page.
Fill out the form:

Your idea: This is the title that will appear at the top of the idea card. It should be a brief but informative description of the idea.
Please add more details: This is where you can elaborate on the idea. For example, you can describe how the feature is working now and how you wish to improve it or suggest a new feature that does not currently exist. Note: You can include files and screenshots to clarify.
Internal Notes: This is where you can add private information or customer-specific notes. Note: The information provided will only be visible to PlanetTogether users and will not appear publicly on the portal.
Customers: This is an optional field that can be used if an enhancement request is made for a particular customer or if one thinks that a specific customer could benefit from the feature. Note: This information will not appear publicly on the portal.
Category: You can select which category to tag this idea with. This will allow users to see that idea when they filter by category.
Email: Your email is required when submitting an idea. This will allow you to be notified of any updates for ideas you have submitted.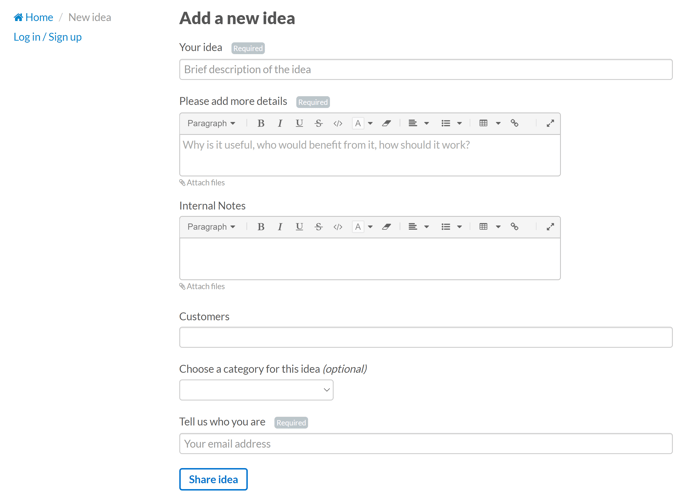 Vote on Ideas
The APS Ideas portal allows you to vote on other ideas. The more votes an idea gets, the more likely it is to be implemented.
You can vote directly from the list by clicking the "Vote" button and selecting how many votes you wish to add:

The number in the box shows you how many votes the idea currently has. The same process applies when voting from the idea page.
Get Notified
When you submit an idea, you will be required to provide your email address. This way, you will get automatically notified when the status of your submitted idea changes.
After consideration, your idea will have its status changed to one of:
Future consideration
Likely to implement
Already exists
Will not implement
Planned
Shipped