Introduction
The KPI or Key Performance Indicator is yet another visual tool to aid planners in making informed scheduling decisions. Every action such as optimize or move is represented on the horizontal axes while the corresponding outcome can be viewed vertically.
Key Concepts
The KPI Pane is an important scheduling tool in PlanetTogether, but it also acts as an analytical suite to balance multiple objectives from many different perspectives. For every action and scheduling choice made within PlanetTogether, several factors are affected.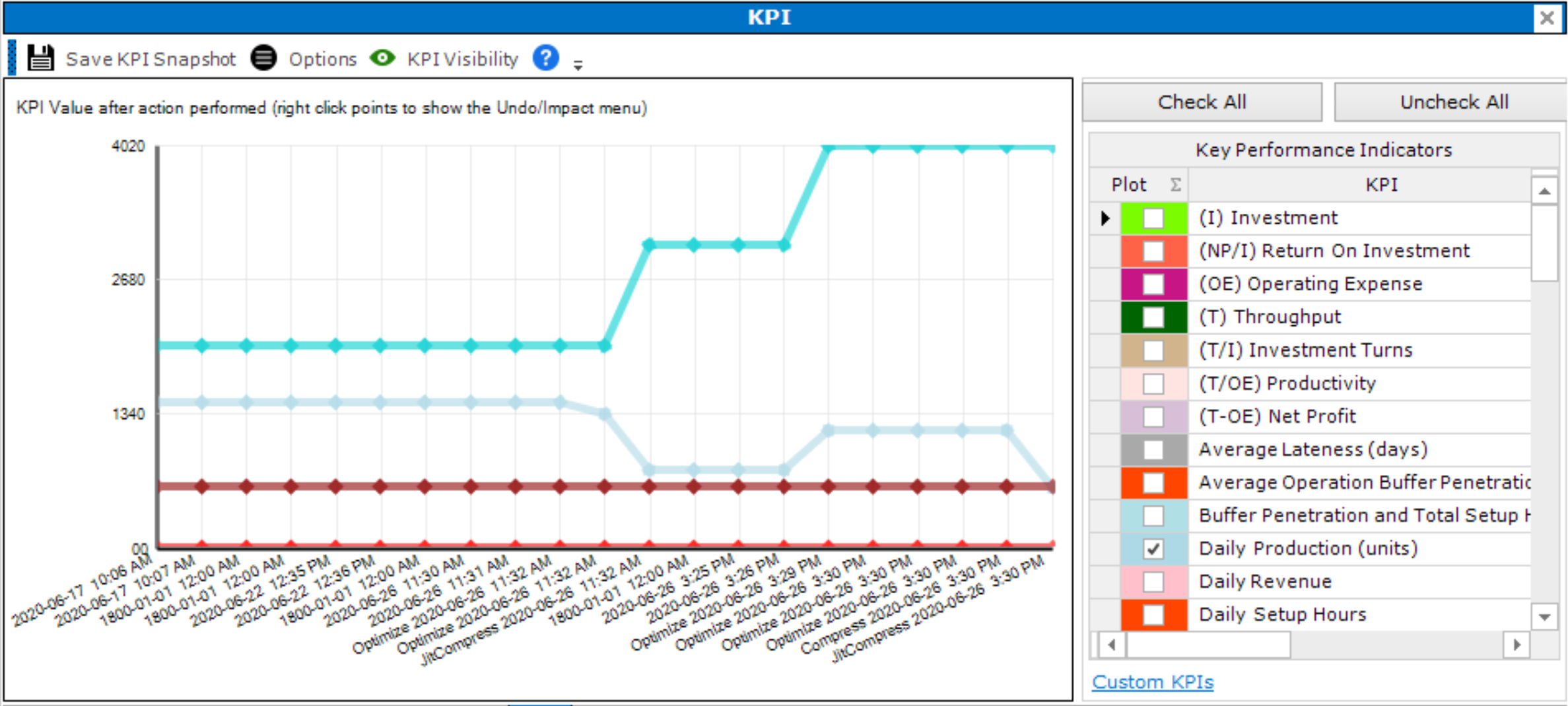 For example, decreasing the number of late jobs might be a great change in order delivery and customer satisfaction. Still, it may not be financially feasible in the long run. On the other hand, reducing costs is profitable but may also come at the price of upsetting customers with late deliveries.
Therefore, planners and C-level officers use KPIs to see the costs and benefits of the proposed schedule. The KPI pane has a variable number of indicators or criteria that can be tracked, and the graph will show how each schedule change affects the tracked criteria. In addition, each point on the graph serves as a possible undo point, and the planner can use the graph to "undo" back to any action by simply clicking on the point and selecting "Undo back to this point."
Additionally, What-If scenarios can be used to run simulations and determine the effect of changes on KPI. Comparing the Scenarios from the What-If section of the ribbon will show the different KPIs of the scenarios compared to each other side by side.
Using KPI to Track Cost
KPI is the best tool within PlanetTogether to aggregate cost information. There are two KPIs that currently relate to cost:
Finished Goods Carrying Cost (10% APR): The interest rate adjusted cost of carrying the Finished Goods inventory until the Need Date. Learn more
WIP Carrying Cost (10% APR): The interest rate adjusted cost of carrying WIP inventory (Job duration from Start to End). Learn more
Please note that both indicators use Total Cost of the Job, the sum of material plus machine costs. If you're only interested in one or the other, you can set the irrelevant cost to zero.
Resource Cost Types
Each Resource can be assigned two cost rates, a Standard Hourly Cost and an Overtime Hourly Cost. When an Operation is scheduled on a Resource, its duration is multiplied by either the Standard or Overtime Hourly Cost to calculate the cost for that Operation depending on whether the Capacity Interval is defined as a Regular Online or an Overtime capacity interval. For example, a Job's machine cost is the sum of the cost of all of its Operations.
KPI Calculators
A "KPI Calculator calculates each KPI." The KPI Calculators that are included with the system are shown below. In addition, custom KPI Calculators can be easily programmed by implementing the IKpiCalculator interface of the API, which is also described below.
Included KPI Calculators
Customer Service:
Financial:
Efficiency/Output:
Inventory:
Throughput Accounting