Key Concepts
This dialog is used to update the Planet Together clock so that the schedule is adjusted to reflect the passage of time. When the clock is advanced, all Activities not yet started are rescheduled to start at or after the new clock date. When the clock is advanced, the sequence of activities does not change but the activities are "pushed" out in time to adjust for the new date.
The clock should be updated frequently so that the system can accurately predict when work will be finished. However, clock advances should not be performed before the job status updates or else the finish dates will be unrealistically late. For example, if job status updates are performed at the end of each shift, the clock should not be advanced more frequently than that.
Setting Up the Advance Clock to Today:
The Advance Clock to Today button can be accessed from the ribbon at the top of the scenario view.
Clicking on the upper half of the Clock button will advance the clock to the current PC date while leaving the time of day value unchanged.
To advance the clock to a specific day or time, click on the lower half on the Clock button and make the appropriate changes in the drop-down menu.
Today: Sets the date value to the current PC date while leaving the time of day value unchanged.
Now: Sets the date and time to the current PC date and time.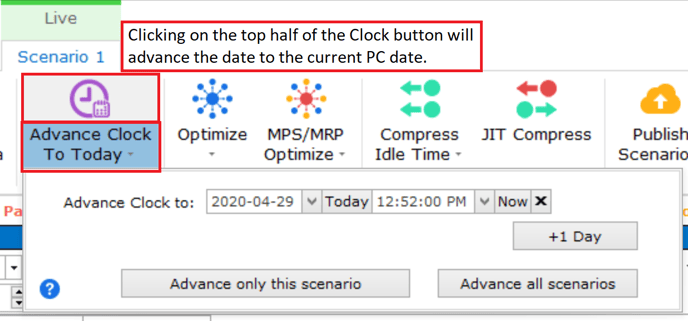 Notes:
The new time cannot be set prior to the current PlanetTogether clock. This setting can only be used to advance the clock to the current date or to a future date. The clock advance can be reversed by clicking the "Undo" button of the ribbon.
Clock Advances can be applied to the specific scenario the user is working on or it can be applied to all scenarios. Any scenario that is later made Live or Published will have the correct Clock setting if the clock advances are made to all scenarios. Only users with Master Scheduler rights can access the clock advance dialog.