Setting up PlanetTogether User Accounts:
An account that will be used for windows credentials should have the same name as the user's credentials (do not include domain).
The account should also have a password.
The account can be used to log in without windows credentials using the username and password.
Logging in with windows credentials: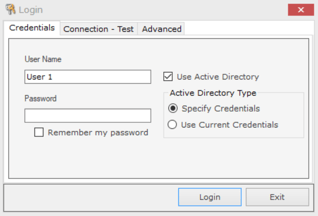 Select the "Use Active Directory" checkbox on the client login window.
Specify the Active Directory Type:

Specify Credentials: This option allows you to log in with any valid user account.
Use Current Credentials: This option will use the account currently logged in.
Managing Active Directory Login:
Each instance can be configured to allow Active Directory within the Instance Manager instance settings. To set this, double click on an instance and go to the Clients tab. Under the Active Directory section, users can check the "Allow Active Directory Login" option. The default is set to deny (the option will be unchecked).

If allowed, a windows group can be specified below it so that only users in that group may log in with Windows credentials. Note: The group name should only be the name of the group, not the fully qualified name.