Galaxy APS, PlanetTogether's Production Scheduling Software, connects multi-plant operations with real-time visibility and collaboration to maximize throughput and on-time delivery. Manufacturers that use Galaxy APS experience:
Improved delivery performance
Boosts in profit
Reductions in inventory and labor costs
Six-month return on investment
Easily reschedule production orders, quickly solve bottlenecks, analyze what-if situations, and eliminate the need for manual data input or burdensome spreadsheets. Learn how Galaxy APS can benefit your company.
Are you ready to move past mere cost controls and turn your shop floor into a profit center? Click below to read about our top features and benefits.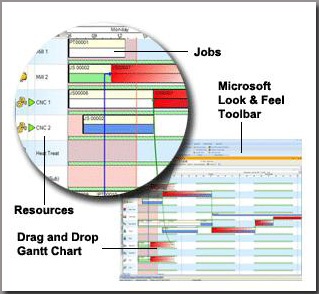 Easily Create Optimized, Up-to-Date Schedules
Use the Co-Pilot to create automated and optimized schedules based on specific KPIs
(Part of the September 2014 product release)
Rapidly Generate Make/Buy Plans to Satisfy Demand
Standardize and Coordinate Across Plants and Around the Globe
Tightly Integrate with Your ERP, MES, and Supply Chain Systems
See in Real-time a 360-Degree View of Your Operations
Keep it Safe and Simple with a Microsoft .Net /SQL Based Platform