Seeing is believing.

Take a glance at these casual video vignettes and move in closer to PlanetTogether.

WEBINARS AND SEMINARS


Synchronous Manufacturing Workshop Overview

Shop Floor Data Collection and Real-time scheduling

Using Business Intelligence (BI) with Manufacturing Scheduling

Multi-User Manufacturing Scheduling

PlanetTogether Galaxy APS and Microsoft Dynamics AX Integration

Check out our APS Classics from far back in the archives!
Introduction to APS – What is Advanced Planning and Scheduling?


Graphical and Automated Manufacturing Scheduling

Manufacturing Scheduling with Capacity and Material Constraints
Long-range Capacity Planning with Constraints

Real time factory scheduling and data collection

True Multi-Plant and Multi-User APS

APS: Simultaneous Material and Capacity Planning

Tank Constraints and Manufacturing Scheduling


Webinar Recording: Improve Throughput, Volume AND Profit in 90 Days. Sorry, but this webinar requires a separate form. Click here or on the image below for a very short form (just name and e-mail address) to access this webinar.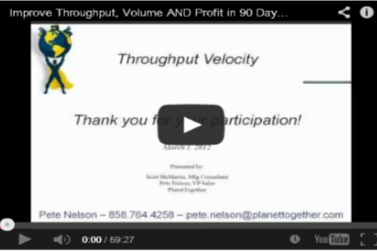 PlanetTogether and its strategic partner, Arvense Group, hosted an introductory webinar in April 2014 on advanced planning and scheduling (APS) systems. Click here or on the image below for a very short form to access the recording of this free webinar.