Superplant is a cohesive, nimble and value-creating system of plants optimized by operations planning and scheduling solutions. Click here to learn more about Superplant and to see a graphical representation. By partnering with PlanetTogether and going through the stages illustrated below, Superplant can be achieved in any manufacturing environment.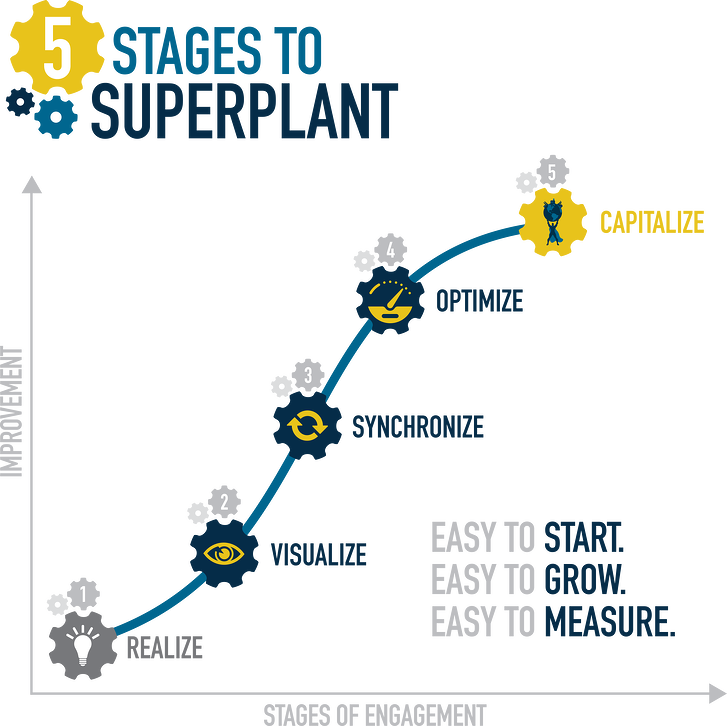 Brief Summary of Key Features and Benefits:
Realize: Learning Process Pre-Implementation
Learn how modern planning and scheduling systems may improve your business
Together we pinpoint which problems need to be solved and what may be holding you back
Clarify your choices through a needs-analysis, solution demonstration, and realistic ROI estimate
Visualize: Easy implementation of a visual, integrated and interactive scheduling board
Clear view of schedules, workloads & inventory
Easily create capacity plans, inventory plans and production schedules
Collaborate seamlessly in real-time across departments and plants
Resolve bottlenecks through "what-if" scenarios and drag-and-drop rescheduling
Synchronize: Implementation of solutions to align production with market demand
Manage variability proactively using buffers
Systematically increase bottleneck resource throughput
Strategic consulting and software improves company performance
Optimize: Implementation of detailed and custom functionalities to maximize KPIs
Achieve the highest levels of KPI performance
Built-in intelligence enables effective automation
Tailored planning & scheduling rules for pinpoint accuracy
Capitalize: Post-implementation partnership to measure and ensure success
Succeed with strategic initiatives backed by your Galaxy platform
Adapt to changes in your business and technology
Enhance team skills with ongoing training
Benefit from ongoing Galaxy enhancements
Contact us for more information about the implementation stages, detailed functionalities or anything else related to our products and services.