While all warehouses may vary, there are various processes within them that act relatively the same. Understanding these processes and aspects within the warehouse are essential if you are seeking to boost operational efficiency, reduce cost, increase profit, and overall aid the entire warehouse process as a whole.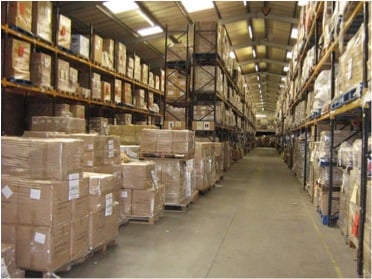 Without understanding the seven key processes within the warehouse, you may be losing a competitive advantage to other manufacturing companies that are utilizing these processes. Therefore, here are the five key processes within the warehouse.
Five Key Processes Within the Warehouse
The seven key processes within the warehouse include the following:
Receiving - Receiving pertains to the act of handling products into a warehouse or onto a particular system. Receipts could be for single products, objects, litres, packets, crates, pallets, etc. The best way to receive these products is through an Advance Shipping Notice (ASN) from a supplier, in which this system information may scan barcodes to bring up the ASN. If the delivery matches the ASN, then goods are able to be system-received. Some systems may allow for goods to be received into inventory at this point, whereas others require the goods to be delivered to a specific stock location before inventory is able to be updated. Ultimately, this will depend entirely on the customer requirements and how the system is able to be set up.
Put-Away - An advantageous system or software will permit put-away staff with a note indicating that stock is in staging waiting to be transported to the storage location. The process ultimately commences when the operators accept the task from the ERP or WMS, in which they then scan the relevant barcode of goods to be put away. If there is not a barcode, then a manual entry may confirm that the goods have been identified. At this point, the system will be directing the put-away staff to deliver goods to the correct storage location.
Dispatching - The accuracy and success of dispatching lies in the operation's ability to have any goods ready for departure, just in time for carriers to load the trucks. The manager must therefore balance and forecast packing/dispatching in accordance with the carrier pick-up times. Goods that are ready too early will only clutter staging areas, which will only delay loading and potentially cause late deliveries. Many firms resort to using systems to release orders for picking and packing in waves, aligned to specific delivery routes.
Returns - Returns are unavoidable and they will happen at some point or another. Returns are an intricate part of business and the volume of returns is growing for many organizations due to e-commerce taking over the game. Many returns for firms usually pertain to around one item at a time. Returns are a key process to be prepared for among the variety of warehouse processes.
Value-Adding - Value-adding is a part of the business where products are produced, kitted, assembled, relabelled, and more. The value adding part pertains solely to performing work on the product that allows it to be ready for sale. This process of value-adding is complex, especially when there are many different items that are combined to form a new product. Complexity pertaining to handling value-adding and the changing nature of components products can be extremely challenging. Fortunately, systems over the years have been able to assist with this process.
A software that can aid warehouses with the seven key processes includes PlanetTogether's Advanced Planning and Scheduling Software. Advanced Planning and Scheduling Software (APS) allows manufacturing facilities to have thorough visibility into their operation and have visual representations of the production process as a whole. Advanced Planning and Scheduling Software (APS) has become a must for modern-day manufacturing facilities and warehouses that are seeking to take their production up a notch through reducing inventory cost, increasing profit, and boosting their overall production efficiency. Advanced Planning and Scheduling Software (APS) can be implemented into warehouses and manufacturing facilities around the globe and can turn your operation or shop floor into a gold mine with ease.
Advanced Planning and Scheduling Software
Advanced Planning and Scheduling (APS) software has become a must for modern-day manufacturing operations due to customer demand for increased product mix and fast delivery combined with downward cost pressures. APS can be quickly integrated with a ERP/MRP software to fill gaps where these system lack planning and scheduling flexibility and accuracy. Advanced Planning and Scheduling (APS) helps planners save time while providing greater agility in updating ever-changing priorities, production schedules, and inventory plans.
Create optimized schedules balancing production efficiency and delivery performance
Maximize output on bottleneck resources to increase revenue
Synchronize supply with demand to reduce inventories
Provide company-wide visibility to capacity
Enable scenario data-driven decision making
Implementation of Advanced Planning and Scheduling (APS) software will take your manufacturing operations to the next level of production efficiency, taking advantage of the operational data you already have in your ERP.
Related Integration Video
APS Resources
Topics: warehouse